Подача статей





Balapanov M.Kh., Zinnurov I.B., Mukhamediyanov U.Kh., Musalimov R.Sh.
SUPERIONIC CONDUCTIVITY AND DIFFUSION OF CATIONS AT COPPER SULPHIDE, ALLOYED WITH ALUMINIUM AND MAGNESIUM [№ 6 ' 2007]
The measuring results of kinetic characteristics changes of ionic constituent of hard solutions on the base of Cu2-хS with temperature interval 320-430°С are presented in this article. It is shown that alloy addition of the given mixture with aluminium and magnesium does not lead to abrupt change of ionic conductivity. Unhydrogen type of temperature dependence of coefficient of conjugate chemical diffusion of cations and holes is marked as for binary compound Cu1,98S as at alloy addition.
Мusalimov T.K.
RESEARCH OF A GRAPHIC TASK AS MEAN OF DEVELOPMENT AND FORMATION OF COGNITIVE SKILLS IN TRAINING [№ 1 ' 2004]
The given clause is devoted to the investigation of a graphic task as mean of development and formation of cognitive skills at studying graphic disciplines. The modern sight is examined on graphic tasks as means of training in the work. The model of scientifically - pedagogical system of professionally - graphic preparation of the plotting teacher and the fine arts teacher is submitted, thus it is marked, that graphic tasks occupy a special value among cognitive skills which are formed in educational process.
Musalimov T.K.
STUDYING ACTIVITY OF STUDENTS IN THE PROCESS OF GRAPHIC TRAINING IN THE SYSTEM OF HIGH PEDAGOGICAL EDUCATION [№ 7 ' 2003]
The problems of higher educational graphic activity of future teacher of drawing and fine arts are investigated in this article. Psychological and pedagogical aspect of student personality forming in process of professional-graphic activity is regarded here. Analyzing general problems of activity theory, essence and specific of graphic disciplines, peculiarities and intercommunication of graphic and cognitive activity it is marked out that graphic activity has opportunities of complex tasks solution of pedagogical process.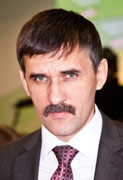 Editor-in-chief
Sergey Aleksandrovich
MIROSHNIKOV