Подача статей





Chetverikova A.G., Maryakhina V.S.
PHYSICAL TECHNIQUES OF RESEARCH OF THE POLYMINERAL CLAY CONTAINING THREE-LAYER ALUMINOSILICATES [№ 1 ' 2015]
The results of spectral and analytical research of structural characteristics of clay containing montmorillonite — chlorite from the Orenburg region are presented. It is established that data of chemical and X-ray analyses of structure are well agreed with data of IR-spectroscopy supplemented each other. Methods complex applying has helped to establish Fe quantitative content in clay and its entry into layered silicates lattices as replacement ions.
Letuta S.N., Maryakhina V.S., Pashkevich S.N., Rakhmatullin R.R.
KINETICS OF DELAYED LUMINESCENCE OF MOLECULAR PROBES IN CELLS OF BIOLOGICAL TISSUE [№ 1 ' 2011]
This report addresses the kinetics of delayed fluorescence of organic dye molecules in the cells of the breast of healthy female mice pertaining to BYRB line and individuals with spontaneous malignant tumors. It discusses the mechanisms of suppression of delayed luminescence of molecules in the cells of tissues. It was experimentally shown that exogenous fluorophores are more accessible to oxygen in cells isolated from normal tissues.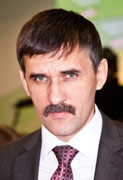 Editor-in-chief
Sergey Aleksandrovich
MIROSHNIKOV