Подача статей





Popov V.P., Malyshkina V.A.
METHODIC OF GRAPH-ANALYTIC CALCULATION OF RHEOLOGICAL CHARACTERISTICS OF FOOD SUBSTANCES [№ 1 ' 2007]
The methodic of rheological characteristics calculation of food substances and equipment for its realization is suggested on the base of experimental research. This methodic can be used for calculation of the processes which can be necessary to produce at creation of new machine constructions and reconstruction of existing one, and also for choice of more rational moods of equipment work and optimal technological schemes of production.
Malyshkina V.A., Popov V.P., Hanin V.P.
FLOW CHARACTERISTICS CHANGE OF MACARONI PRODUCTS AS FACTOR INFLUENCING THE PASSAGE PROCESS OF THEIR DRYING [№ 5 ' 2005]
In the article the analysis is made of convection dryings of macaroni products with preliminary hydrothermal processing and without it, dependences are received of products flow characteristics from duration and intensity of process, recommendations are given to the choice of parameters and to duration of drying.
Malyshkina V.A., Zinuhinz G.B., Pishchuhin A.M., Popov V.P.
ANALYSIS OF THE PROCESS OF DRYING OF MACARONI GOODS IN INFRA - RED DRYER. [№ 4 ' 2004]
Researches are given in the work, which are directed on study of thermotraditional drying of macaroni goods and revelation of the main defects of the process? Which negatively influence the quality of the product. The researches were made on the specific equipment, using infra - red dryer instead of conveyer dryer USK. Indexes of quality of derivable macaroni goods are valued. Dependencies of temperature and relative moisture of drying air, rheological qualities of duration and effectiveness of dryer. Possible ways of improvement of quality of macaroni goods, using modern high effective technologies in new trend are discussed.
Malyshkina V.A., Zinyukhin G.B., Belova A.G., Sidorenko G.A., Popov V.P.
UNCONVENTIONAL RAW MATERIAL USE FOR PASTA PRODUCTION [№ 2 ' 2004]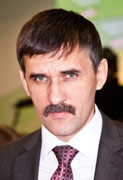 Editor-in-chief
Sergey Aleksandrovich
MIROSHNIKOV