Подача статей





Tretjak L.N., Losev Yu.A., Bondarenko E.G.
QUALITY SURVEILLANCE OF BEER IN CONDITIONS OF EQUIPPED LIMITED BREWING LABORATORIES [№ 10 ' 2005]
The material submitted for the publication is a development of the question on necessity of the control of by-products of fermentation (BPF) and contains concrete tools for increase of its efficiency at definition of concentration diacetyl at a stage of a fermentation of beer. The connection is shown between contents BPF in beer, its microbiological properties, degree of hydrolysis of fiber and quantity of the formed amino acids. By low-voltage horizontal electrophoresis amino acids are determined in some grades of the beer made in the Orenburg region. Experimental curves are given of hydrolysis of fiber in various grades of beer. The express train - method of definition of diacetyl is offered, allowing to supervise it during fermentation and aftermentation and promoting duly updating of parameters of technological process of beer manufacture.
Tretyak L.N., Losev Yu.A., Khaliullin V.R.
ANALYSIS OF DYNAMICS OF SECONDARY PRODUCT RESOLUTION OF BEER FERMENTATION [№ 12 ' 2004]
Important problem of incidental fermentation product rationing and control created on the stage of beer fermentation and determined its quality, are regarded in this article. The analysis of existing methods of incidental fermentation product control was made here on the base of modern data. Chemical method of separate determination of diacetyl and acetoin, allowed determining concentrations of these substances and analyzing dynamics of its resolution outside of laboratory conditions, was suggested here. The series of different beer types determination was passed. The series of determination with known spectrophotometric method was given here for numeric appraisal of convergence. Received information allows correcting of technological process of beer cooking in time.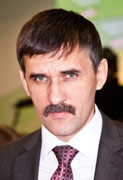 Editor-in-chief
Sergey Aleksandrovich
MIROSHNIKOV