Подача статей





Temkina V.L., Larionova I.A.
METAPHORIZATION OF CONCEPT "TIME" IN MIDDLE ENGLISH AND MODERN ENGLISH [№ 11 ' 2004]
This article is devoted to search of concept "Time" in diachronic aspect. The authors considered the dynamics of temporal notions in consciousness of speaker and its reflection in Middle English period and Modern English. The concept "Time" is analyzed in frame of conceptual metaphor theory as metaphorical transfer is effective remedy of abstract essence verbalization.
Larionova G.A.
INFORMATIVE-ACTIVITY TECHNOLOGY OF THE TEACHING OF THE UNIVERSITY STUDENTS IN THE CYCLE OF PHISICS AND MATHEMATICS [№ 2 ' 2003]
The ways of the efficiency improvement of Physics and Mathematics courses in the professional training of university students on the basis of the determined pedagogical conditions are described in this article. The forms, means of education, which contribute to the quality of knowledge improvement of university students are proposed in the article.
Larionova G.A.
INFORMATION-ACTIVITY BASED APPROACH TO UNIVERSITY STUDENTS TRAINING AND PRINCIPLES OF ITS REALIZATION [№ 1 ' 2003]
The integration processes dominating in the present-day society made Russian higher education part of the world education system which is directed toward high intensity of information processes, humanization, ecological culture, etc. At present education sets itself not only to mastering a certain knowledge but mainly to developing future specialists' ability to obtain and use such a knowledge independently in their future career and life. The problem of defining conditions, necessary for students' learning and meeting the aims of education cannot be solved without analyzing the psychological and pedagogical aspects of professional activity formation.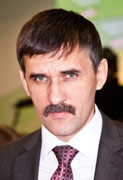 Editor-in-chief
Sergey Aleksandrovich
MIROSHNIKOV