Подача статей





Garipova N.V., Miroshnikov S.A., Holodilina T.N., Kurilkina M.Yа., Vanshin V.V., Zelepukhin A.G., Ryabov N.I.
NUTRITIONAL AND PRODUCTIVE ACTION OF BRAN, MODIFIED IN THE PRESENCE OF PARTICULATE IRON [№ 10 ' 2012]
In work the experimental data showing modifying action of different types of processings (the microwave oven andultrasound) on otrubny a product in the presence of iron microparticles are presented. In experiment of "in vitro" the fact of increase of bioavailability of substances of a product subjected to processing is elicited. On the "in vivo" model effect of the processed bran in a combination with metal microparticles on an organism of chickens is shown rostostimuliruyushchy.
Kurilkina M.Ya., Miroshnikov S.А., Kholodilina Т.N., Vanshin V.V.
ОN UNDERSTANDING OF INFLUENCE OF SUPERFINE METAL POWDER ON BIOAVAILABILITY OF EXTRUDATES COMPONENTS [№ 6 ' 2010]
The article presents results of experimental investigation over evaluation of features of extrudates containing superfine metal powder. The authors discover data on selective change of bioavailability of chemical elements from extrudates. Received compositions could not be characterized by increase in productive effect.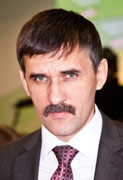 Editor-in-chief
Sergey Aleksandrovich
MIROSHNIKOV