Подача статей





Kulapina G.M., Markova O.V.
IMPORTANCE AND GENERAL FACTORS OF KNOWLEDGE MANAGEMENT SYSTEM FORMING AT AN ENTERPRISE [№ 5 ' 2006]
The key factors of success at modern enterprise management are not general funds and finance but the system of knowledge, which personnel of organization have and use in its activity. The most important knowledge for competition of different types organizations, factors complex, putting at the base of enterprise knowledge management system construction, peculiarities of this system for small and middle enterprises, are given in this article. This article can be useful for teachers, post-graduate students, students, interested in peculiarities of modern Russian management, and also for leaders and specialists of enterprises.
Kulapina G.M.
CONSULTING FEATURES AS PARTS OF BUSINESS SERVICES [№ 9 ' 2005]
Since the end of the last century the sphere of services for business has received the significant development in economically advanced countries. The culture of attraction of advisers at heads of the Russian enterprises (especially small) for the present has not developed, they do not have clear understanding of necessity of attraction foreign of experts – advisers to the decision of own tasks. In these conditions there are actual scientific and practical development under the contents, processes and features of administrative consultation of small and average business, to this theme the represented article is devoted.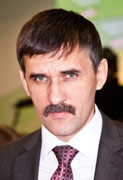 Editor-in-chief
Sergey Aleksandrovich
MIROSHNIKOV