Подача статей





Kireeva N.A., Griroriadi A.S., Vodopyanov V.V., Amirova А.R.
INDICATION POOR CONDITION SOIL FOR HER IN COMPLEX MICROSCOPIC FUNGI, INCREASES PRESSING CHEMICAL FACTOR [№ 12 ' 2011]
It was shown that as a result of the petrochemical industry the changes of the mycological complex of soil contaminated by refinery products are changing. It is described the similarity of fungal communities of uncontaminated and polluted soils wiht different levels of oil hydrocarbon.
Bakaeva M.D., Klimina I.P., Kireeva N.A., Dubovik I.E.
INFLUENCE OF CONDITIONS OF CITY EСOSУSTEM ON AEROPHYTE MICROSCOPIC FUNGI OF TREE BARK [№ 2 ' 2010]
Taxonomical composition of micromycetes, living on the bark of woody plants of the city of Ufa is first considered. Comparison of fungi biota of industrial district and recreational zone of city is conducted on specific composition, length and biomass of mycelium, to frequency of met. The types of micromycetes, steady to industrial contamination are exposed.
Pershina A.S., Kireeva N.A., Eliseeva O.S., Garipova M.I.
STUDY OF ERYTHROCYTE INSULIN TRANSPORT IN NORMAL AND FIRST TYPE DIABETES CONDITIONS [№ 2 ' 2010]
The experiments to compare the distribution coefficients between erythron and insulin plasma and a number of hydrophobic and hydrophilic hormones showed that the insulin transport, compared to transport of other protein hormones, is the equivalent use of serum and erythrocyte mechanisms. It is shown that in first type diabetes, a significant increased erythrocyte systems contribution to the delivery of insulin to peripheral tissues occurred, due to decreased insulin inclusion in the blood plasma hormonal transport complex.
Bagautdinova G.G., Nurmukhametov N.M., Kireeva N.A.
BIOLOGICAL ACTIVITY OF SOIL AND PRODUCTION OF SUGAR BEET AT PROCESSING WITH BIOPREPARATION [№ 6 ' 2009]

Vodopiyanov V.V., Kireeva N.A., Grigoriady A.S., Yakupova A.B.
INFLUENCE OF OIL POLLUTION OF SOIL ON RHIZOSPHERE MICROBIOTA AND MODELING OF HYDROCARBON BIODEGRADATION PROCESSES [№ 6 ' 2009]

Eliseeva O.S., Kireeva N.A., Pershina A.S., Butorina O.L., Bikbulatova S.M., Garipova M.I.
RESEARCH OF NATURE OF INSULIN INTERACTION WITH SURFACE OF RED BLOOD CELLS AND STRUCTURE OF HORMONTRANSPORTING COMPLEX OF HUMAN BLOOD COMPLEX [№ 6 ' 2009]

Kireeva N.A., Novoselova E.I., Erokhina N.I., Grigoriadi A.S.
ACCUMULATION OF BENZAPYREN IN THE SYSTEM "SOIL-PLANT" AT OIL POLLUTION AND ACTIVE MUD BRINGING [№ 6 ' 2009]

Shubina O.S., Kireeva Yu.V.
INFLUENCE OF LEAD INTOXICATION ON MORPHOFUNCTIONAL CONDITION OF SYSTEM OF PATIENT-FETUS [№ 6 ' 2008]
The authors studied the influence of lead intoxication on the system of patient-fetus in model experiment on rats with using of histological and electronic-microscopic methods.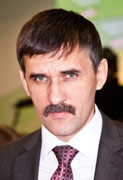 Editor-in-chief
Sergey Aleksandrovich
MIROSHNIKOV