Подача статей





Skoybedo I.E., Efimov S.G., Bolotnikov V.N., Korolikhin F.S., Dokashenko D.A.
ANESTHESIA METHODS AT INTUBATION OF NASOLACRIMAL DUCT IN CHILDREN [№ 12 ' 2015]
Inflammation of the lacrimal sac and nasolacrimal duct (dacryocystitis) is the cause of lacrimal passages disfunction. Constant lacrimation, mucopurulent discharge increase the risk of purulent-septic and inflammatory diseases of the eye and organs surrounding the eye thence intubation of nasolacrimal duct in children with neonatal dacryocystitis should be carried out in the early stages (up to 6 months) and under general inhalation anesthesia. General anesthesia allows avoiding stress reactions in children, eliminates restlessness, avoids trauma and neurological complications of nasolacrimal duct intubation. Ensuring a high level of comfort to the surgeon allows recanalize nasolacrimal duct in complicated and neglected cases without too much emotional stress. High level of general anesthesia security is provided by experience and staff training, the availability of comprehensive monitoring and correct its use, allowing you to carry out the procedure on an outpatient basis with minimal risk of complications.
Balashevich L.I., Nikulin S.A., Kachanov A.B., Yefimov O.A., Churakov T.K., Zavyalov A.I.
TO THE QUESTION OF REFRACTIVE RESULT REGRESSION IN LONG-TERM PERIOD AFTER LASIK SURGERY [№ 12 ' 2012]
Nowadays LASIK is the most widespread surgical method for myopia correction. But the received refractive result is not always remains resistant. In the long follow-up period after operation substantial growth of a corneal thickness in the central part is observed. The increase in a thickness first of all connected with morphology of the interface between flap and corneal bed. Regress of operation result and its expressiveness depend on initial degree of myopia, time after intervention, and structural changes in operated tissue.
Il'ina S.S., Cherneev A.S., Efimova I.P., Umanskaya N.E., Zapara V.V.
THE SENSE OF DIFFERENT METHODS OF ANALYSIS OF HEART RATE VARIABILITY IN CARDIOLOGY [№ 5 ' 2003]
The analysis of heart rate variability is the most modern noninvasive appraisal method of dynamic condition of cardiovascular system and extra-cardinal regulation system of heart rate. The research of vegetative background of cardial pathology is important for every patient from the position of individual approach and it allows to "treat not illness, but patient", as the majority of drugs, using in cardiology, has direct or mediated activity. Indications for rhythmographical examination of patients with cardiovascular system illness are regarded in this article.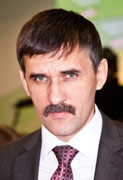 Editor-in-chief
Sergey Aleksandrovich
MIROSHNIKOV