Подача статей





Drogobytsky I.N.
ORGANIZATIONAL MANAGEMENT: NATURE, THE TEAM AND LEADER ORGANIZATION [№ 13 ' 2011]
In this paper we investigate the variability and psycho-energetic nature of organizational management, emotional intelligence of the modern manager is analyzed, the algorithm of choosing the leader by complementary management team is provided and recommendations on self-improvement are made in order to perform his/her mission properly. The conclusion about the need for interdisciplinary research is made in order to find a new paradigm of organizational management, linking it to the rank of the engineering sciences.
Drogobytsky I.N.
ON THE SYNTHESIS OF A NEW PARADIGM N ORGANIZATIONAL MANAGEMENT [№ 4 ' 2011]
The article gives a systematic interpretation of administrative decision-making. At the same time, administration is interpreted as meeting obligations of economic entity by use of management energy of its regulatory body. It is established that in order to make a sustainable decision it is necessary to define four functional imperatives — what to do, how to do it, when to do it and who should do it. In order to fulfill it, it is necessary to provide a good combination of four energetic imperatives — power, will, enforcement and authority. There are suggestions made on measurement of administrative energy performance.
Drogobytskiy A.I.
GLOBALIZTIONAL ASPECTS OF ORGANIZATIONAL KNOWLEDGE [№ 10 ' 2005]
In the article east and western approaches are analyzed to creation of new organizational knowledge and attempt is undertaken of effective recommendations development on generation of the uniform universal approach which would unite advantages and levelled lacks of both classical approaches. The author proves an opportunity of joint scientific - technological development of the companies, holding western and east styles of realization of research and developmental works.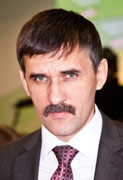 Editor-in-chief
Sergey Aleksandrovich
MIROSHNIKOV