Подача статей





Dogareva N.G., Bogatova O.V., Stadnikova S.V.
INFLUENCE OF DIFFERENT VEGETABLE FATS OVER QUALITY OF RECOMBINED CONDENSED MILK. [№ 1 ' 2014]
The lack of milk-product problem has been examined. It is possible to solve this problem replacing milk fat by fat of vegetable origin. The problem of directed and balanced nutrition can be also solved using fat methods in food industry in terms of vegetable oil. The results of experimental researches according to the usage of different vegetable oils in recombined condensed milk production are analyzed in this article. The best results are obtained replacing milk fat by "Soyuz 5/2 L" fat.
Doga A.V., Kachalina G.F., Gorshkov I.M., Kuranova O.I.
PROSPECTS OF MICROPULSE LASER IMPACT AT MACULAR EDEMA AFTER SURGICAL REMOVAL OF EPIRETINAL MEMBRANES [№ 4 ' 2013]
Investigation of epiretinal membrane (ERM) is an urgent problem in ophthalmology. There are no safe and effective methods of ERM conservative treatment. The only effective method ERM treatment is its surgical removal. But there is no improvement in morphology and function of macula after operation. Subthreshold micropulse laser therapy may be effective and safe method of recovering macular structure and function after surgical ERM removal.
Doga A.V., Ismailova S.B., Branchevskaya E.S.
FIRST EXPERIENCE WITH "MICROSCAN VISUM" EXCIMER LASER FOR REFRACTIVE CORRECTION AFTER COLLAGEN CROSS-LINKING IN KERATOCONUS PATIENTS [№ 4 ' 2013]
The aim of this study was to assess the effectiveness of topography-guided PRK with "Microscan Visum" excimer laser after collagen cross-linking in keratoconus patients. 22 patients had topography-guided PRK performed 10-12 months after collagen cross-linking. Improvement of uncorrected and best corrected visual acuity was observed and all patients were satisfied with achieved results.
N.G.Dogareva, E.A. Azhmuldinov, A.A.Tsarenok
MANUFACTURE OF NON-POLUTING CATTLE-BREEDING PRODUCTION [№ 6 ' 2003]
In the article the problem is raised of maintenance of ecological safety of meat and dairy raw material. Requirements are resulted to which ecologically safe facilities should answer, and also medical and biologic and sanitary norms of non-polluting meat and milk. Researches on studying an opportunity of manufacture of a beef on the radioactive polluted district (on an example of failure of the Chernobyl atomic power station) are described.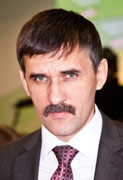 Editor-in-chief
Sergey Aleksandrovich
MIROSHNIKOV