Подача статей





Doga A.V., Ismailova S.B., Branchevskaya E.S.
FIRST EXPERIENCE WITH "MICROSCAN VISUM" EXCIMER LASER FOR REFRACTIVE CORRECTION AFTER COLLAGEN CROSS-LINKING IN KERATOCONUS PATIENTS
The aim of this study was to assess the effectiveness of topography-guided PRK with "Microscan Visum" excimer laser after collagen cross-linking in keratoconus patients. 22 patients had topography-guided PRK performed 10-12 months after collagen cross-linking. Improvement of uncorrected and best corrected visual acuity was observed and all patients were satisfied with achieved results.
Key words:
"Microscan Visum" excimer laser, topography-guided PRK, keratoconus.
References:
1. Doga A.V. Secondary astigmatism correction using "Aesculap MEZ-70" excimer laser// Ophthalmosurgery 2001; 4: P.3-9.
2. Moroz Z.I., Izmaylova S.B., Legkih S.L., Merzlov D.E. Collagen cross-linking as method of progressive keratoconus treatment.// Practical medicine 2012;4(59): P. 104-107.
3. Coskunseven E, Jankov MR, 2nd, Hafezi F. Contralateral eye study of corneal collagen cross-linking with riboflavin and UVA irradiation in patients with keratoconus. J Refract Surg. 2009; 25:371-376.
4. Iovieno A, Legare ME, Rootman DB, Yeung SN, Kim P, Rootman DS. Intracorneal ring segments implantation followed by same-day photorefractive keratectomy and corneal collagen cross-linking in keratoconus.//J Refract Surg. 2011 Dec; 27(12):P. 915-918.
5. Kanellopoulos A.J., Binder PS. Collagen cross-linking (CCL) with sequential topography-guided PRK: a temporizing alternative for keratoconus to penetrating keratoplasty. Cornea. 2007;26: P.891-895.
6. Kanellopoulos A.J., Comparison of sequential vs same-day simultaneous collagen cross-liking and topography-guided PRK for treatment of keratoconus.//Journal of Refractive Surgery. 2009 Sept; 25(9):P.812-828.
7. Kymionis G.D., Kontadakis A.E., Kounis G.A., Portaliou D.M., Pallikaris IG. Simultaneous topography-guided PRK followed by corneal collagen crosslinking for keratoconus. J Refract Surg. 2009 Sep;25(9).
8. Lin D.T.C. Transepitelial Topography-guided PRK for keratoconus. Cataract and refractive surgery today. 2007 May: 71-73.
9. Oshika T., Tanabe T., Tomidokoro A., Amano S. Fourier analysis of videokeratography data Ophthalmology 2002; 109:339.
10. Pietrini D., Tony Guedj T., Strategy for boosting visual acuity in keratoconus patients. J Cataract Refract Surg Today 2012 Febr; 32-34.
About this article
Authors:

Izmaylova S.B., Doga A.V., Branchevskaya E.S.



Year:

2013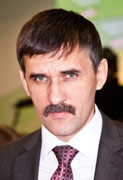 Editor-in-chief
Sergey Aleksandrovich
MIROSHNIKOV