Подача статей





Degtyarev A.N., Degtyareva S.V.
COMPARATIVE TRANSFORMATIONS MODELING OF INSTITUTIONAL MATRIXES OF SOCIAL-ECONOMIC SYSTEMS [№ 1 ' 2007]
This work is devoted to the problems of institutional matrixes transformation, composed the base of social-economic systems (SES). From the position of systematic approach supposed the synthesis of historical-economic science and evolutional economy, theory of institutional matrixes and systems theory, and also principals of philosophy and social science in frames of this research, historical-economic reconstruction is passed and on its base transformational processes at the system of base institutions of social environment allowing making conclusions of forecasting character concerning possible vectors of further development of SES are modeled. Revealed regularities are correlated with existing historical-statistical materials and scientific conclusions of other researchers.
Degtyareva T.D., Chulkova E.A.
THE ECONOMICAL AND STATISTICAL ANALYSIS OF THE ORENBURG REGION`S AGRICULTURAL PRODUCTION [№ 5 ' 2005]

Djagtereva T.D., Speshilova N.V.
APLICATION OF MATHEMATICAL MODELLING IN THE ORGANIZATION OF EDUCATIONAL PROSESS [№ 5 ' 2003]
The aspects of use of mathematical toolkit for educational models construction in a context of a problem of increase efficiency in experts preparation in high schools are examined in the article.
Degtyaryova T.D., Kripak E.M.
FORMATION OF THE ASSORTMENT OF OUTPUT PRODUCTION FOR SMALL BUSINESS ENTERPRISES BASED ON THE THEORY OF FUZZY SETS [№ 2 ' 2003]
Methodology of formation of the assortment of output production for small business enterprises based on the theory of fuzzy sets is suggested. The discovery of perspective nomenclature and structure guarantees an enterprise the formation of the good's core, which will be realized at the market with minimal risk, allows to provide steady work of the enterprise and reach all strategic goals.
Degtyaryeva T.D.
DIFFERENTIATION OF STUDDING: TOTAL DEGREE KNOWLEDGE MODELS [№ 4 ' 2002]
It is suggested to organize the building of strategy of studing on the basis of inculation of informational technologies for increasing efficience and quality of the process of studing. These technologies distribute the time factor and provide the maximum degree of proximity to individual trajectories of development of each student. The represented models of studing can become the basis of building of such technologies.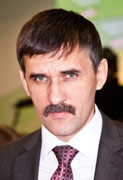 Editor-in-chief
Sergey Aleksandrovich
MIROSHNIKOV