Подача статей





Brusyanin D., Ponomareva M.
ODEL OF THE MUTUALLY BENEFICIAL COOPERATION OF THE PASSENGER REGIONAL CARRIERS [№ 9 ' 2015]
Currently the strategic development of the suburban passenger traffic is directed to the formation of the intermodal transport involving rail transport. In the context of legal fragmentation of the transport complex integration of transportation companies through coordination of their activities is impossible without building mutually beneficial relations of participants of the transportation process. The investigation of the existing scientific works on improvement of the suburban complex allowed us to determine that not enough attention given to the formation conditions of mutual cooperation of participants of the transportation process: the model of coordination of the interests of the passenger carriers was not created, both among themselves and with the Executive authorities of subjects of the Russian Federation. Therefore the purpose of this article is to develop a model of mutually beneficial cooperation of passenger carriers. Interaction in this paper is formalized as a graph model, defined in the plane of the formation of the conflict the carriers, proposed to use logistic approach to resolve the conflict between carriers and build optimal route network. As a result of the work carriers on the proposed cooperation schemes is achieved by the additional system effect. This effect is ensures the integrity of the system. It is expressed by the difference between the obtained effect of concerted action of carriers and the amount of economic effects of individual elements of the system. Additional system effect is possible only in terms of removing contradictions in the system. The amount of Agency fee can be set from the condition of maximizing the profitability of carriers. Proposed in the present work, the model makes it possible to form regional route network from the point of view of realization of interests of subjects of the transportation process.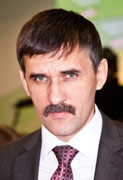 Editor-in-chief
Sergey Aleksandrovich
MIROSHNIKOV