Подача статей





Boriskina L.M., Solodkova H.G., Melikhova I.A.
MODIFICATION OF CORNEAL COLLAGEN CROSSLINKING IN TREATMENT OF PROGRESSIVE KERATOCONUS [№ 12 ' 2014]
There were studied treatment results in 61 patients with keratoconus of the I–II degree. I group comprised 25 patients (25 eyes), treated by conventional CXL method; II group included 36 persons (36 eyes) who had their surgery performed according to a modified technique. The latter has clinical efficiency and safety which are similar to the corresponding figures of the conventional method, but is distinguished by uncomplicated postsurgical period and a more pronounced positive dynamics in restoration of visual functions, which counts in its favor when choosing method of progressive keratectasia treatment.
Nazarov V.V., Kushnarenko V.M., Nazarov S.V., Boriskina P.A., Aleeva O.N.
SUBSTANTIATION OF HYPOTHESES DO NOTNEWTONIAN FLOW SOLUTIONS IN CENTRIFUGAL RHEOSEPARATORS [№ 1 ' 2014]
The article analyses the main provisions of the classical and hydrodynamic theories centrifugal rheoseparation. Proposed use of new mathematical dependences for calculation and design of rheoseparators and rheocentrifuges high performance, with a high degree of separation solutions for the faction.
Boriskina L.N., Balalin S.V., Makovkin E.M.
CORNEOSCLERAL RIGIDITY AS A CUMULATIVE BIOMETRIC PARAMETER [№ 4 ' 2013]
Examination of corneoscleral rigidity by means of dynamic differentiated tonometry was performed in 640 healthy persons (640 eyes). Rigidity factor is a cumulative parameter, comprising various characteristics, such as age, corneal thickness, anterior-posterior ocular globe size, clinical refraction.
Solodkova E.G., Boriskina L.N.
CORNEAL COLLAGEN CROSSLINKING SAFETY EVALUATION IN TREATMENT OF PROGRESSIVE KERATOCONUS BASING ON REMOTE POSTOPERATIVE RESULTS [№ 4 ' 2013]
Safety and efficiency of two corneal collagen crosslinking (CXL) techniques was brought to comparative analysis. CXL was performed in 25 patients with progressive keratoconus: 9 patients (9 eyes) underwent a conventional CXL; 16 patients (16 eyes) had a modified CXL which novelty consisted of a depth-metered deepithelialization performed by excimer laser with on-line pachymetry Schwind Amaris (Germany). UV-A exposure was made by means of "UV-X" device (version 1000) (IROC Inc., Switzerland). All patients were prescribed to wear silicon-hydrogel soft contact lenses until a complete epithelial recovery. Improvement of NCVA, BCVA, topographic parameters, pachymetric values along with integrity of endothelial cell density was registered in all the cases which allows concluding that both CXL methods are safe and have a similar clinical efficiency.
Shunkevitch O.N., MelikhovaI.A., BoriskinaL.N., BalalinS.V.
ROLE OF DESCEMETOGONIOPUNCTURE IN NORMALIZATION OF INTRAOCULAR PRESSURE IN CASES OF IOP ELEVATION IN THE EARLY POSTOPERATIVE PERIOD AFTER MICROINVASIVE NON-PENETRATING DEEP SCLERECTOMY [№ 12 ' 2012]
There were analyzed reasons, inducing elevation of intraocular pressure in 49 patients (49 eyes) with primary open-angle glaucoma in 1–3 months following microinvasive non-penetrating deep sclerectomy. A high thickness of trabecular Descemet membrane and presence of hypoechoic contents within the intrascleral space are the main factors leading to worsening of aqueous humor outflow and elevation of IOP in the early postoperative period. Normalization of IOP level basing on findings of ultrasound biometry was achieved in all the patients due to laser Descemetogoniopuncture.
Fokin V.P., Boriskina L.N., Bugaenko I.A., Dzhashy B.G., Novikova E.V.
SURGICAL TREATMENT OF PTERYGY ACCORDING TO THE METHOD OF AUTOPLASTY WITH FREE CONJUNCTIVE FLAP [№ 13 ' 2004]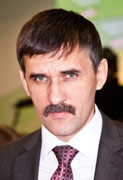 Editor-in-chief
Sergey Aleksandrovich
MIROSHNIKOV