Подача статей





Zatsarinina Yu.V., Blech A.V., Ovchinnikova I.P.
DEVELOPMENT OF HOUSING POLICY AND REGIONAL HOUSING MARKET AS PART OF REGIONAL POLICY BALANCED REGIONAL DEVELOPMENT (ON THE EXAMPLE OF ORENBURG REGION) [№ 9 ' 2015]
Standard and legal regulation of the housing sphere of the region, mechanisms of participation of the regional government in the solution of housing questions are considered process of carrying out at the regional level of a state policy in the field of housing construction and providing bulk of the population with affordable housing. Researches in the field of implementation of the existing housing programmes of federal and regional levels are conducted. The following features of implementation of regional housing programmes and national projects on the example of the Orenburg region are revealed: the region participates in implementation of socially significant national projects and housing programmes directed on increase in volumes of housing construction; the main volume of budgetary funds is allocated for performance of actions for support of the region to construction branch and restructuring of mortgage loans. The main directions of regional housing policy and system of mortgage lending of the population of the Orenburg region are analysed. The main obstacles to development of housing policy, are: inefficient use of free land fund; the high cost of acquisition of housing for bulk of the population; difficult mechanism of mortgage lending; existence mainly market of "commercial" housing; need of modernization of municipal infrastructure; instability and regular increase of municipal tariffs; undeveloped system of insurance of housing. By results of research for effective development of housing policy in the Orenburg region in modern conditions it is offered: to carry out systematic monitoring of implementation of housing programmes; to develop the development plan of the territory of the Orenburg region and the program of development of infrastructure of the territorial units which are its part; effectively to use fund of free lands by transfer them on favorable terms under construction of the houses intended for delivery on the terms of social hiring; to provide stability of municipal tariffs and extra charges for services of a municipal complex; to enter the program of obligatory insurance of housing.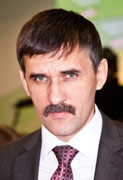 Editor-in-chief
Sergey Aleksandrovich
MIROSHNIKOV