Подача статей





Vladov D.Y., Bendas T.V.
THE SIGNIFICANCE OF THE INSTRUMENTAL LEADER QUALITY AMONG THE SPORTSMEN-JUDOISTS OF DIFFERENT SPORT SKILLS [№ 2 (app.1) ' 2005]
The article deals with the study results among the sportsmen-judoists of different sport skills and their coach-experts. There is a certain dependence between the level of the sport skills and the significance of the instrumental leader qualities. 10 basic leader qualities play various roles among 4 sportsmen types: beginners, rated ones, master candidates, master of sports.
Bendas T.V.
RUSSIA AND KAZAKHSTAN: ETHNOCULTURAL AND HENDERNAL DIFFERENCES [№ 7 ' 2003]
Different foreign typologies of cultures are considered in the article. Ethnic cultures of Russia and Kazakhstan are compared here (on the base of own researches of Russian and Kazakh man and woman) and it is determined their places in these typologies as intermediate cultures.
T.V. Bendas
GENDER AND CULTURAL DIFFERENCIES IN THE ESTIMATE OF THE STUDENT LEADERS AND THE SOCIAL STUDIES INSTRUCTORS PROGRESS [№ 1 ' 2001]
The problem of the estimate of the student leaders and the social studies instructorsi. activity is considered in this article. Results of the scientific researches are compared with the authorids ones. The differencies between men and women, the russian and the Kazakh, are analysed by success, leaderi,s style and the motivation of activity. From these facts the necessary to create some estimate criterions of the leaderios success and the possibility to use the exceeded results for it.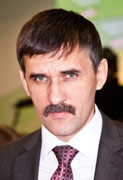 Editor-in-chief
Sergey Aleksandrovich
MIROSHNIKOV