Подача статей





Aptikeeva R.F., Sharapova N.V., Kovalyova F.F.
THE ANTIOXIDANT STATUS AND INDICATORS OF VEGETATIVE BALANCE OF PATIENTS WITH ALCOHOLISM DEPENDING ON APPLICATION OF A COURSE OF ADAPTATION TO A PERIODIC NORMOBARICHESKY HYPOXIA [№ 9 ' 2015]
According to static data the number of alcoholics in Russia will amount to 5 000 000 people, 3.4 % of all population. Alcohol caused death by 33 % of menhood and by 15 % women, that is to say 500 000 people per year. In spite of the sufficiently progress in dipsomania treatment that is difficult to value the efficiency of taking medical measures and to prognosis the remission periode. In consideration of impotant role of oxidant stress in development of the addiction to the ethanol, it is essential question relating to research of new actions directed to increase the power of the antioxidant systems and to restriction of oxidant stress in the complex treatment of the people with the alcohol addiction syndrom. The object of this research is to determine the expedience of the use the adoptation to the circulating hypoxia of alcohol addicted patients treatment. Under the influence of adoptation to circulating normabaristic hypoxia the process lipoids perioxide by alcohol addicted patients returned to normal after holding the adoptation's course. The adoptation to the circulating normobaristic hypoxia favoured to increase of the power of the antioxidant systems. Thus, the results of the research denote, that the adoptation to circulating normobaristic hypoxia has an essentially influence on the character of the remission and the somastic condition. The valuable contribution of the adaptative therapy consists in the complete rejection from the ethonol both in the ordinary life's situations and in cases reminding the alcohol use. It allows to improve significantly a modern complex of actions directed to the dipsomania treatment and recommemd the course of the adoptation to circulating normobaristic hypoxia for its.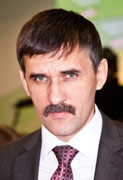 Editor-in-chief
Sergey Aleksandrovich
MIROSHNIKOV