Подача статей





Frolov A.V., Frolov D.V., Isaeva V.M.
CLUSTER STRATEGY OF DEVELOPMENT OF THE REGION
Productive realization of cluster strategy of regional development is the factor providing economic growth and increase of competitiveness of economy of the region and the country as a whole at the expense of use of synergetic effect from joint activity.– The increasing role of cluster strategy of regional development caused now need of expansion of scales of scientific researches for this sphere for a choice of solutions of the tasks facing economy of each of them.
Key words:
regional economy, management, cluster policy, region.
References:
1. Buresh O.V., Gerbeev L.Yu., Bekbergenev D.E. Administrative aspects of transformation of the relations of property in the period of market transformations / Islands V. Buresh, L.Yu.Gerbeev, D.E. Bekbergenev//Economic sciences.– 2010– .– No. 63.– Page 232-236.
2. Gerbeeva, L.Yu. Korotchenko, Yu.I. role of institute of property in national Economy / Gerbeeva L.Yu. Korotchenko Yu.I. // Messenger of the Orenburg state university. — 2012 . No. 13. Page 79-83.
3. Gerbeeva L.Yu., Korotchenko Yu.I., Effective application of regional property / L.Yu., Gerbeeva, Yu.I. Korotchenko // Economics, organization and management of enterprises, industries and complexes in market conditions: methods, mechanisms, tools and technologies Proceeding of the annual international conference. Ed. B.I. Boyarintsev. — 2013. — Р. 117-122.
About this article
Authors:

Frolov A.V., Frolov D.V., Isaeva V.M.



Year:

2014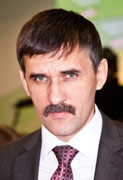 Editor-in-chief
Sergey Aleksandrovich
MIROSHNIKOV