Подача статей





Gerbeeva L.U.
REGION PROPERTY — BASIS OF DEVELOPMENT OF ECONOMY OF THE TERRITORY
The property is a basis of system of the economic relations. Research of property allows to answer a question, in whose interests economic activity is carried out. Region property — the basis of a sustainable development of economy of the region, provides growth of welfare of the population and creates favorable conditions for development of managing subjects. The property represents economic category, i.e. are the relations developing between subjects concerning a material basis of economic activity. The property of the region is closely connected with the economic power, with management of managing subjects, with the daily relations of regional society. The forms of ownership which have developed in the region have impact on implementation of process of development of regional policy and creation of the mechanism of its realization.
Key words:
regional economy, management, property, the region, stability, socially-economic development, efficiency.
References:
1. Buresh O. V., Gerbeev L.Yu. Bekbergeneva of E. administrative aspects of transformation of the relations of property in the period of market transformations / Islands V. Buresh, L.Yu.Gerbeev, D.E. Bekbergenev//Economic sciences.– 2010. — No. 63. — Page 232-236.
2. Gerbeeva, L.Yu. Korotchenko, Yu.I. role of institute of property in national Economy / Gerbeeva L.Yu. Korotchenko Yu.I. // Messenger of the Orenburg state university. — 2012. — No. 13. — Page 79-83.
3. Gerbeeva L.Yu., Korotchenko Yu.I., Effective application of regional property / L.Yu., Gerbeeva, Yu.I. Korotchenko // Economics, organization and management of enterprises, industries and complexes in market conditions: methods, mechanisms, tools and technologies Proceeding of the annual international conference. Ed. B.I. Boyarintsev. — 2013. — Р. 117-122.
About this article
Author:

Gerbeeva L.Yu.



Year:

2014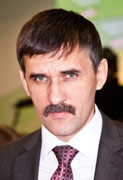 Editor-in-chief
Sergey Aleksandrovich
MIROSHNIKOV