Подача статей





Salnikova E., Osipova E., Zabolotnaya N.
COMPARATIVE EVALUATION OF ZINC IN DRINKING WATERS AND SOILS OF THE ORENBURG REGION
The article considers the problem of monitoring of ecological condition of soil and water bodies on the territory of the Orenburg region. It is established that the pollution of natural environments zinc is dispersed. Excessive concentrations of zinc observed in soils and waters Kuvandykskij, Gai and Novoorskogo areas. Concentrations of zinc in natural environments typical of large variability, which sharply increases the vicinity of large industrial enterprises located in the studied areas.
Key words:
ecology, soil, drinking water, zinc, Orenburg region.
References:
1. Sofronov E. A. Heavy metals (zinc and cadmium in soils of the North-East of Russia // the dissertation on competition of a scientific degree of the candidate of agricultural Sciences, state University of Tatnai AIP RSCHAN, Kazan, 2003. — 18 р.
2. Sudnitsyn And. And., Sasha I. I. Patterns of distribution of copper, zinc, lead and Nickel in soils of Moscow region // Agrochemistry, 2006, №2, Р. 30 — 37.
3. Kabata-Pendias A., Pendias Agricultural trace elements in soils and plants : Per. s angl. — M. : Mir, 1989. — Р. 439. — ISBN 5-03-000922-1
4. Derfel K. Statistics in analytical chemistry. — M.: Mir, 1994. — 268 P. ISBN 5-03-002799-8
About this article
Authors:

Osipova E.A., Salnikova E.V., Zabolotnaya N.V.



Year:

2014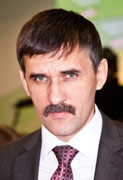 Editor-in-chief
Sergey Aleksandrovich
MIROSHNIKOV