Подача статей





Suyundukov Ya.T., Khasanova R.F., Salmanova E.F.
PHYTOMELIORATIVE WAY OF REMEDIATION OF SOIL PROPERTIES OF STEPPE ECOSYSTEMS
Influence of sown perennial herbs and herbs from among of natural communities on agrophysical properties of Chernozems of Trans-Ural of the Republic of Bashkortostan (RB) is studied. Effective phytomeliorants for restoration of Chernozems in a North-South gradient are revealed. Restoration of the degraded soils' properties of agroecosystems of Trans-Ural of the RB under the agrosteppes created by the Dzybov method is investigated. Various options are considered and the most effective combinations of soil handling for agrosteppes are identified.
Key words:
phytomelioration, agrosteppes, soil fertility, Chernozem, soil handling, phytomass, agrophysical properties.
References:
1. Abdullin M.R., Mirkin B.M. On the possibility of using the method of creating" Agrostep" in Bashkir Trans-Ural // Effective methods of restoring soil fertility, improved cultivation technologies, development and introduction of new crop varieties. — Ufa, 1995. — P. 47-49.
2. Abdullin M.R., Mirkin B.M. On some methods for the quantitative description of succession // Ecology. — 1999. — №6. — P. 468-470.
3. Abdullin M.R., Mirkin B.M. Experience creating "Agrostep" in Bashkir Trans-Ural steppe // Bull. Moscow Society of Naturalists. Dep. Biol. — 1995. — T. 100. — №5. — C.77- 90.
4. Dzybov D.S. To create a "portrait models" natural biogeocenosis — Agrostep // Anthropogenic processes in vegetation. — Ufa: BFAN USSR, 1985. — P. 126-134.
5. Garifullin F.S. Optimal parameters of soils and crop yields // Soil conditions and fertilizer efficiency. — Ufa, 1984. — P. 3-12.
6. Kaczynski N.A. Estimation of the basic physical properties of soils in order to agronomic and natural fertility of their mechanical structure // Soil Science. — 1958. — № 5. — P. 1-17.
About this article
Authors:

Hasanova R.F., Suyundukov Ya.T., Salmanova E.F.



Year:

2014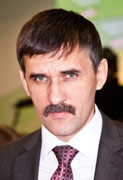 Editor-in-chief
Sergey Aleksandrovich
MIROSHNIKOV