Подача статей





Korotchenko Yu.I., GerbeevaL.Yu.
SYSTEM OF MONITORING OF PROPERTY MANAGEMENT OF THE REGION
SMUSR providing is necessary for effective management of all types and forms of ownership in the territory of the region: activity of the relations of property; efficiency of use of objects of property; protection of the property rights. SMUSR is the open adaptive operated dinamicheksky system having multilevel hierarchical structure that observance of certain approaches to planning its funktsionirovakniya and developments. Problem of regulation of the relations of property — one of the vazhknykh in any economic system which can be solved via the SMUSR mechanism. The property rights if to speak about them from the point of view of economy development as a whole, have to be effective, and for this purpose they have to develop and be freely a subject of a free purchase and sale.
Key words:
management, property, economy, region, monitoring, efficiency, social and economic development, welfare of the population.
References:
1. Buresh O. V., Pryadkina, N.N., Theoretical aspects of management of economy of the region / Island V. Buresh, N. N. Pryadkina//Messenger of the Orenburg State University. — 2011 . -2 volume. — No. 13 (132). — Page 99-104.
2 . Buresh O. V., Iskhakov A.F., Public administration by economy of the region / Island V. Buresh, A.F. Iskhakova//Russian business. — 2012 .No. 24. — Page 222-228.
3. Buresh O. V., Gerbeeva L.YU., Bekbergeneva of E. Administrative aspects of transformation of the relations of property in the period of market transformations / Islands V. Buresh, L.Yu.Gerbeeva, D.E. Bekbergeneva//Economic sciences. 2010 .No. 63. Page 232-236.
4. Gerbeeva, L.YU.,Korotchenko, YU.I., Role of institute of property in national Economy / GerbeevaL.Yu. KorotchenkoY
5. Mikheyev A.A. Property management in economic system of the region: The monograph — SPb. : СПбГИЭУ, 2008. — 231p.
6. Gеrbееvа L.Уu., Kоrоtсhеnkо Уu.I.,Еffесtivе аррliсаtiоn оfrеgiоnаl рrореrtу / L.Уu., Gеrbееvа, Уu.I.Kоrоtсhеnkо // Есоnоmiсs, оrgаnizаtiоn аndmаnаgеmеnt оf еntеrрrisеs, industriеs аnd соmрlехеsinmаrkеt соnditiоns: mеthоds, mесhаnisms, tооls аndtесhnоlоgiеs Еd. B.I. Bоуаrintsеv. Kirоv, 2013.Page 117-122.
About this article
Authors:

Gerbeeva L.Yu., Korotchenko Yu.I.



Year:

2014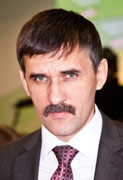 Editor-in-chief
Sergey Aleksandrovich
MIROSHNIKOV