Подача статей





Dmitrieva N.M.
CHANGE OF ETHICAL LOADING OF THE CONCEPT "PATIENCE" IN THE RUSSIAN LANGUAGE
The author of article considers change of ethical loading of a concept of "patience" and the related words on a material of various dictionaries and case texts. Compares value of these words in the Russian and Church Slavonic languages.
Key words:
ethical loading, language ethics, ethic, spiritually-moral, concept
References:
1. Vereshchagin E.M. Church Slavic book-learning in Russia. — М.: Indrik, 2001.
2. Dal V.I. Interpretitional dictionary of living great Russian language: In 4 т. М., 1999.
3. Dmitrieva N.M. Ethical and religious in Russian lexicon // Vestnik OSU. — 2011. — №6. — С. 32 — 37.
4. Dyachenko G. The Full Church Slavonic dictionary. М., 2001.
5. Ozegov S.I., Shvedova N.Y. Dictionary of the Russian language. M.: Azbukovnik, 1999.
6. Ushakov D. N. Explanatory dictionary of Russian. M.: Astrel; Ast, 2000.
7. Fasmer M. The etymological dictionary of Russian In 4 t. M.:Astrel: izd-vo AST 2003.
8. Ethics: the Encyclopedic dictionary / University of philosophy by Russian Academy Science. М.: Gardariki, 2001.
About this article
Author:

Dmitrieva N.M.



Year:

2013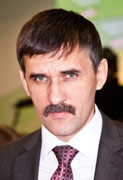 Editor-in-chief
Sergey Aleksandrovich
MIROSHNIKOV