Подача статей





Fedotova A.V., Yakovleva L.V., Sorokin A.P., Strelkov S.P., Strelkova E.V.
ASSESSMENT OF THE CURRENT STATE OF POST-AGROGENE SOILS OF THE DELTA OF VOLGA
The assessment of a physical and salt condition of post-agrogene soils of anthropogenically transformed landscapes of the delta of Volga is carried out. It is established that existence of irrigation canals and proximity of an arrangement of the main drainage channel has impact on spatial distribution of soil properties and salts in a landscape (r = 0,84). The arable horizons of studied agrosoils authentically differ from each other on key parameters: Kvodopr, Pb, Kstr and to the maintenance of LRS.
Key words:
post-agrogene soils, salt condition, agrophysical properties, degradation.
References:
1. Geography of soils: practical work / A.P. Sorokin, S.P.Strelkov — Astrakhan: Astrakhan University publishing house, 2012. — 60 pages.
2. Fedotova A.V. Sorokin A.P. In the masculine cutting torches, Starodubov A.A. Frolov V.A. Some aspects of theoretical and methodical approaches to a quantitative assessment of a physical condition of the salted soils//the Messenger of the Orenburg State University special issue October, 2009 of Page 385-387.
3. Sheyin E.V. Physical bases of functions of soils//In book. "Structurally — a functional role of the soil in the biosphere". M: GEOS, 1999. Page 82-91.
4. Shpedt A.A.Monitoring of fertility of soils and protection of lands: studies. grant//Krasnoyar. state аграр. un-t. — Krasnoyarsk, 2010. — 128 pages.
About this article
Authors:

Fedotova A.V., Yakovleva L.V., Sorokin A.P., Strelkov S.P., Strelkova E.V.



Year:

2013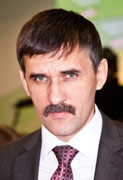 Editor-in-chief
Sergey Aleksandrovich
MIROSHNIKOV