Подача статей





Sablina O.A., Turlibekova D.M.
RESEARCH OF ORSK URBANOZEM RECREATIONAL AREAS
The results of research in pH, humus and heavy metals content in the soils of Orsk park areaare presented. There is a significant deterioration in the ecological status of soils in Metallurgovpark in the zone of influence of Southern Urals Nickel Plant.
Key words:
soils, humus, pH, heavy metals, accumulation, parks.
References:
1. Welz N.U., Turlibekova D.M. Accumulation of heavy metals in the elevated part of the higher plants growing in Orsk and its vicinities / N.U. Welz, D.M. Turlibekova // VestnikOrenburgskogogosudаrstvennogouniversitetа. — Orenburg, 2011. — P. 378-380.
2. Vorobyova L.A.Chemical analysis of soil [Text]: textbook / L.A.Vorobyova. — M.:Izd-voMGU, 1998. — 272 p.
3. GOST 26423-85. Soils. Methods of determining the electrical conductivity, pH, and the solid residue of aqueous extract.[Text]. — Vved. 1985–02–08. –М.: Izd-vostandartov, 1985. — 10 p.
4. State report of the state and protection of the environment of the Orenburg region in 2011[Text]/ By K.P. Kostyuchenko. — Orenburg–Buzuluk: "BUZULUK printing ", 2012. — 297 p.
5. Kaverina, S. А.Geo-ecological assessment of the transformation of soil transformed territories (for example, Orsk-Novotroitsk industrial hub) [Text]: avtoref. diss. …kand. geogr. nauk:25.00.36 / Kaverina Svetlana Alexandrovna. — Barnaul, 2007. — 19 p.
6. Turlibekova, D.M. Heavy metals in soils of the town parks of Orsk // VestnikOrenburgskogogosudаrstvennogouniversitetа. — Orenburg, 2011. — №16(135) декабрь — P.223-224.
7. Fedoretz, N. G. Technique of study of urban areas soil [Text]: a teaching aid / N. G. Fedoretz, M.V. Medvedeva. — Petrozavodsk: Karelian Research Centre RAS, 2009. — 84 p.
About this article
Authors:

Sablina O.A., Turlibekova D.M.



Year:

2013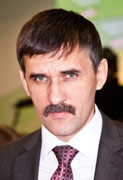 Editor-in-chief
Sergey Aleksandrovich
MIROSHNIKOV