Подача статей





Kotsur T.V., Izmaylov A.S.
COMPARATIVE ESTIMATION OF LASER COAGULATION EFFICIENCY IN MACULAR AND MICROPHOTOCOAGULATION OF HIGH DENSITY IN DIABETIC MACULOPATHY TREATMENT
The modern standard of treatment of clinically significant diabetic macular edema is macular laser photocoagulation was suggested in the reports of the Early Treatment of Diabetic Retinopathy Study (ETDRS, 1985-1990). Subthreshold microphotocoagulation (MicroPulse) leads to developing barely visible or invisible retinal burns and also has been shown to be effective in treating macular edema with no side effects comparing with ETDRS methodic (retinal pigment and choroidal atrophy, decreasing of retinal sensitivity). Effectiveness of microphotocoagulation may arise in high density laser applications, however in modern literature exists rare publications concerning this question.
Key words:
diabetic maculopathy, diabetic retinopathy, diabetes of II type, microphotocoagulation, subthreshold laser coagulation.
References:
1. ETDRS report number 19. Early treatment diabetic retinopathy study group. Focal photocoagulation treatment of diabetic macular edema. Relationship of treatment effect to fluorescent angiographic and other retinal characteristics at baseline// Arch. Ophthalmol. — 1995. –Vol. 113, №9. — P. 1144–1155.
2. Roider J. Laser treatment of retinal diseases by subthreshould laser effects// Semin. Ophthalmology. — 1999. — Vol.14 — P. 19–26.
3. Roider J., Michaud N.A., Flotte T.J. et al. Response of the retinal pigment epithelium to selective photocoagulation// Arch. Ophthalmol. — 1992. — Vol.110, №12. — P. 1786–1792.
4. Lavinsky D. et al. Randomized clinical trial evaluating mETDRS versus normal or high-density micropulse photocoagulation for Diabetic Macular Edema// Invest. Ophthalmol. Vis. Sci. — 2011. — Vol. 52, №7. — P. 4314-4323.
About this article
Authors:

Kotsur T.V., Izmaylov A.S.



Year:

2012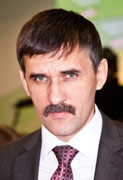 Editor-in-chief
Sergey Aleksandrovich
MIROSHNIKOV