Подача статей





Notova S.V., Duskaeva A.H., Miroshnikov S.V.
EVALUATION OF INFLUENCE OF DIETARY STRESS ON PSYCHOPHYSIOLOGICAL AND METABOLIC INDICES
The article presents results assessment of physical development, behavior, and clinical-laboratory indicators of experimental animals the under influence fast preparation products in combination with water and carbonated drink. Observed adverse effects experienced diets at living mass of rats, reducing the horizontal and vertical motion activity, hematological indices of animals.
Key words:
laboratory animals, food stress, instant food, metabolism, behavior, open field.
References:
1. Tutel'yan V.A., Baturin, A.K., Vasiliev A.V. et al. Reference levels of consumption of food and biologiseskih active substances / Methodical recommendation MR2.3.1. 1915. — M.: RAMN, 2004. — 36 p.
2. Zhukov, D.Yu. Application of high mineralized additives in the production of fish sausage // Proceedings of TINRO. — 2006. — V. 147. — P. 368–373.
3. Notova S.V., Skal'nyi M.G. Macro- and micronutrients in the diet of modern man: ecological and physiological and social aspects / edited. V.A. Tutel'yana and A.V. Skal'nyi. — M.: ROSMEM, 2004. — 310 p.
4. Kacerikova, N.V. Technology products functional nutrition: a training manual. — Kemerovo: Kemerovo technological Institute of food industry, 2004. — 146 p.
5. Glinnik S.V., Rinejskaya O.N., Romanovsky I.V., Krasnenkova T.P. Hormonal status and content of free amino acids in plasma of rats with experimental hypothyroidism in thermal effects // VSMU Messenger. — 2007. — V. 6, №2. — P. 1–9.
6. International guiding principles for biomedical research involving animals (1985).
About this article
Authors:

Notova S.V., Duskaeva A.H., Miroshnikov S.V.



Year:

2012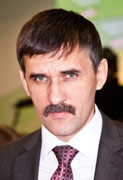 Editor-in-chief
Sergey Aleksandrovich
MIROSHNIKOV