Подача статей





Nesterov D.V., Sipaylova O.Yu., Lebedev S.V.
INFLUENCE OF THE SULPHATE AND MIKROCHASTIC ZINC ON EXCHANGE TOKSICHESKIH ELEMENT IN BONE FABRICS CYPLYAT-BROILER
In given work are presented given on influence of the sulphate of the zinc and his(its) mikrochastic on exchange toxic element in bone fabrics broiler. The Got data point to reduction of the toxicological load on organism of the bird under influence given microelectronics not dependent from the form, herewith defogging effect more expressing when entering the zinc in ration of the bird in the manner of mikrochastic.
Key words:
zinc, lead, cadmium, tin, quicksilver, aluminum, strontium, chicken, organism, bone fabrics, toxic elements.
References:
1. Brin, V.B. Possibility of the preventive maintenance toxicity effect cadmium metall complex to salts of the zinc — an acizolom / V.B. Brin, R.I. Kokayev, H.H. Babaniyazov, N.V. Pronina // Herald new medical technology. — 2008. — T. XV, №4. — Р. 213–216.
2. Ershova, O.B. Patogeneticheskoe treatment strontium ranelatom womans with post menstrual osteology // Modern rheumatologij. — 2010. — №4. — Р. 54–58.
3. The Methods of the undertaking scientific and production studies on nursing of the agricultural bird: recommendations / Sh.A. Imangulov, I.A. Egorov, T.M. Okolelova [and others]; Vseros. nauch.-issled. and tehnol. in-t pticevodstva. — Sergiev put; plant: VNITIP, 2004. — 43 р.
4. Nesterov, D.V. Influence of the zinc depending on the forms on productive quality of the birds when use stern ferment / D.V. Nesterov, S.V. Lebedev // Material international scientifically-practical conference "Problems to modernizations APK". — Burial mound: Publishers Kurganskoy GSHA, 2010. — T. 2. — P.139–141.
5. Nesterov, D.V. Influence of the zinc on efficiency of the use stern ferment preparation / D.V. Nesterov, O.Yu. Sipaylova // Herald Orenburgskogo state universiteta. — 2010. — №6 (112). — Р. 156–159.
6. Nesterov, D.V. Age track record of the accumulation micro– and macro element in tibial of the bones of the hens / D.V. Nesterov, S.V. Lebedev, O.Yu. Sipaylova // Problems to biologies productive zhivotnyh. — 2011. — №2. — Р. 39–44.
7. Plotnikova, I.A. The Clinical markers of the deflections of able health children, conditioned influence lead / I.A. Plotnikova // Uraliskiy medical journal. — 2009. — №7. — Р. 67–71.
8. Skalinyy, A.V. Bioelementy in medicine / A.V. Skalinyy, I.A. Rudakov. — M.: Publishing house "Onyx 21 ages": World, 2004. — 272 р.
9. Chattohhyay N., Quinn S.J., Kifor O. et al. The calcium-sending receptor (CaR) in involved un stroncium ranelate-induced osteoblast proliferation. Biochemical Pharmacol 2007; 438 — 47.
10. Jacobs R., Jones A., Fry B., Fox M. // J. Nutr. — 1978. — Vol. 108, №6. — P. 901–910.
11. Nakamura K., Suzuki E., Sugiura I., Torat T // Industr. Hlth. — 1979. — Vol. 17, №1. — P. 1–8.
About this article
Authors:

Nesterov D.V., Sipaylova O.Yu., Lebedev S.V.



Year:

2012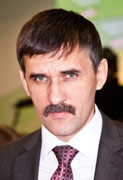 Editor-in-chief
Sergey Aleksandrovich
MIROSHNIKOV