Подача статей





Anilova L.V., Salnikova E.A., Primak О.V., Sharygina M.V.
PHYTOREMEDIATION PROSPECTS SOIL URBAN AREAS (FOR EXAMPLE, ORENBURG)
The paper studies the ability of representatives of the species Populus nigra L. to absorb heavy metals in Orenburg. The study calculated the coefficients of accumulation of zinc, copper, lead and cadmium, as well as their concentration in the fresh plant material.
Key words:
contamination of soil, phytoremediation, heavy metals, urban ecosystems.
References:
1. Galiulin R.V., Galiulina R.A. Cleanup of soils from heavy metals by plants // Herald of the Russian Academy of Sciences. — 2008. — T. 78. — №3. — P. 247–249.
2. Rusanov A.M., Novozhenin I.A., Koval M.A., Klevtsova N.V., Prihoghay N.I., Anilova L.V., Voropaev S.B. On the regional law "On protection of soils of the Orenburg region" // Bulletin of the Orenburg state university. — 2006. — №4. — P. 81–83.
3. Groshev, I.V. Monitoring soil and land of the Orenburg region of contamination with heavy metals // Environment Orenburg region: Information Analysis Yearbook / Ed. V.F. Kuksanova. — Orenburg: COE at OSU, 2000. — P. 145–166.
4. Vasilyeva T.I., Brudastov Y.A. Potential metal-fitoakkumulyatory pollutants // Bulletin of OSU. — 2011. — №6. — P. 142–146.
5. Voytyuk, E.А. Accumulation of heavy metals in soil and plants in the urban environment (for example, Chita): abstract. candidate. biol. sciences. — Ulan-Ude, 2011. — 23 p.
6. Ibolya Biro, Tunde Takacs Study of heavy metal uptake of Populus nigra in relation to phytoremediation/ Ibolya Biro, Tunde Takacs // Cereal Research Communications. — June 2007. — Vol. 35, №2. — P. 265–268.
7. Vollenweider Pierre, Menard Terry, Madeleine S. Gunthardt-Goerg Compartmentation of metals in foliage of Populus tremula grown on soils with mixed contamination. From the tree crown to leaf cell level / Pierre Vollenweider, Terry Menard, Madeleine S. Gunthardt-Goerg // Environmental Pollution. — January 2011. — Vol. 159. — Issue 1. — P. 324–336.
8. Tsvetkova, N.N. Trace elements in the life of the forest steppe // Problems of Steppe forestry and nature conservation. — 1977. — P. 50–54.
9. Kudryashova, V.G. Accumulation of heavy metals wild plants: abstract. candidate. biol. sciences. — Saransk, 2003. — 19 p.
10. Ozersky, A. Principles of Environmental Geochemistry: Textbook. — Krasnoyarsk: PKI SFU, 2008. — 316 p.
About this article
Authors:

Primak O.V., Salnikova E.V., Anilova L.V., Sharygina M.V.



Year:

2012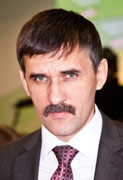 Editor-in-chief
Sergey Aleksandrovich
MIROSHNIKOV