Подача статей





Кuzmina К.М., Vinogradov А.N., Kozminykh V.О.
CONDENSATION OF METYLKETONES WITH DIALKYLOXALATES AND CYANACETIC AMIDE IN SYNTHESIS PYRIDINE-4-CARBOXYLATES
A simple and easy-to-use method for the synthesis of 6-alkyl-3-cyano-2-hydroxipyridine-4-carboxylates based on the three-component condensation of metylketones with dialkyloxalates and cyanacetic amide is proposed. Structure and specialty of state synthesize compounds established based on data IR and NMR 1Н spectroscopes.
Key words:
oxalic condensation, pinacolone, aceton, dialkyloxalates, cyanacetic amide, 6-alkyl-3-cyano-2-hydroxipyridin-4-carboxylates.
References:
1. Robert N. Henrie II, R. William Greekmore, Walter H. Yeager. // J. Org. Chem. — 53. — 1988.
2. S.G. Perevalov, Y.V. Burgart, V.I. Saloutin, О.N. Chupakh // Progress chemistry. — 70(11). — 2001.
3. Jens M. J. Nolsцe, Dirk Weigelt // J. Heterocyclic Chem. — 46.1 — 2009.
4. Kamal M. Dawood, Hassan Abdel-Gawad, Hanan A. Mohamed, Bakr F. Abdel-Wahab. // Heterocycles. — Vol. 81. — No. 1. — 2010.
About this article
Authors:

Kozminyh V.O., Kuzmina K.M., Vinogradov A.N.



Year:

2011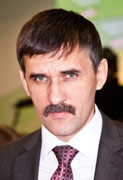 Editor-in-chief
Sergey Aleksandrovich
MIROSHNIKOV