Подача статей





Trunov V.V.
TEMPERATURE FIELDS OF UNDERCOWLING SPACE OF MOTOR CAR
The article is informed about analysis of research results of temperature fields of undercowling space of VAZ-2112 motor car produced domestically. The research was performed by two stages: on a stationary car and when driving it. To fix temperatures modern equipment was used that can give more accurate results.
Key words:
temperature fields, motor car, transducer, temperature conditions, car resource.
References:
1. Bahmat G.V. Koeffitsient of fitness of the car to winter service conditions / G.V.Bahmat, V.A.Tyulkin//News of HIGH SCHOOLS. Oil and gas, 1999. Bull. 3. — p.92-101.
2. Aerodynamics of the car / Under the editorship of Century — Guho; the Lane with it. N.A.Junikovoj; Under the editorship of S.P.Zagorodnikova. — М: Mechanical engineering, 1987. — 424 p.
3. Berk K.Analiz of the data by means of Microsoft Excel.: the Lane with English / K.Berk, P.Kejri. — М: the publishing house "Williams", 2005. — 560 p. — ISBN 5-8459-0712-8
4. Convective warmly: the Lane with it / V.Kast, O.Krisher, G.Rajnie, K.Vintermantel. — М: Energy, 1980. — 49 p.
5. Ertman S.A. Fitness of cars to winter service conditions on a temperature mode of engines: Cand.Tech.Sci.: 05.22.10 / S.A.Ertman. — Tyumen, 2004. — 180 p.
6. Khmelnitskiy E.E. Problem of giving of air cooling the engine and aerodynamics of the car / E.E.Khmelnitskiy // Motor industry, 1984. Bull. 4. — p.11-12.
7. Mihajlovsky E.V. Aerodynamics of the car / E.V. Mihajlovsky. — М: "mechanical engineering", 1973. — 224 p.
About this article
Author:

Trunov V.V.



Year:

2011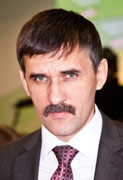 Editor-in-chief
Sergey Aleksandrovich
MIROSHNIKOV