Подача статей





Khadzharov M.Kh.
SOCIOLOGY OF CONFESSIONAL-CULTURAL RELATIONS: TOLERANCE AS A BASIS FOR DIALOGUE OF RELIGIOUS CONSCIOUSNESS
The article deals with the problems of transformation of culture in general and religious culture in particular in relation to contemporary processes of globalization of the world community. In the context of these processes cultural changes in the ethnic entities and in the religious consciousness are conceptualized. The idea of the necessity of dialogue between confessions on the basis of the principle of tolerance in the name of preserving the integrity of state and society is carried in this work.
Key words:
integrity of Russia, historical consciousness, globalization, integration, religious confessions, religious consciousness, ethno-confessional conflict, the deformation of cultural values, national and ethnic cultures, cultural identity, ethnic crisis of culture, tolerance, dialogue of religious cultures.
References:
1. The Constitution of the Russian Federation. — M.: Potiizdat, 1993.
2. O. Conte spirit of positive philosophy. — St.: Journal of Knowledge, 1910.
3. Kisriev EF Islam and Power in Dagestan. — Moscow: OGI, 2004.
4. Akayev VH Sufism and Wahhabism in the North Caucasus. Confrontation or compromise? — Makhachkala: Institute of History, Archaeology and Ethnography of the Dagestan Scientific Center, Academy of Sciences, 1999.
5. Akayev VH Religio-political conflict in the Chechen Republic of Ichkeria, "Central Asia and the Caucasus — 1999. — №4 (5). — S. 101-108.
6. "Ъ" from december, 16th 2010.
7. Tolerance / Gen. Ed. MP Mchedlova. — Moscow: Republic, 2004.
8. Gorshkov, MK, Sheregi FE Russia's Youth: A Sociological port-PET. — M.: TsSPiM, 2010.
9. Bakhtin MM Aesthetics of verbal creativity. — Moscow: Art, 1986.
About this article
Author:

Hadzharov M.H.



Year:

2011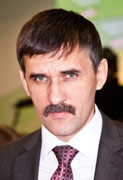 Editor-in-chief
Sergey Aleksandrovich
MIROSHNIKOV