Подача статей





Larionov M.T., Larionov N.V.
THE ECOLOGICAL STATE OF THE AQUEOUS OBJECTS OF AVERAGE VOLGA REGION
The authors gave the statistical analysis of the results of the analysiges of the undertaken tests of water from the surface and underground water sources, and also the drinking water based on the example to Saratov region. The steady growth of chemical contaminators in the tap drinking water in recent years is observed. The realization of effective measures for modernization and repair of water-engineering constructions is necessary.
Key words:
reservoir, drinking water, technogenic pollution, chemical contaminators, the sanitation of medium.
References:
1. Atlas of the Saratov Region [text], ed. MA Shabanov. — M.: GUGK, 1978. — 31 sec.
2. Hygiene requirements and standards for drinking water SanPiN 2.1.4.1074-01 [text]. — Moscow: Russian Ministry of Health, 2001. — 56.
3. Report on the state of the environment in the Saratov region in 2008 [Text] The State Committee for the Protection of OCD. Wed Saratov Region. — Saratov: VI, 2009. — 188.
4. Izrael, YA Ecology and control of the natural environment [Text] Izrael. — Moscow: Gidrometeoizdat, 1984. — 559 sec.
5. Livchak, JF Engineering protection and management of the development environment [Text] I. F. Livchak. — M.: Kolos, 2001. — 159.
6. Lyubimov, VB Mathematical methods in biology and ecology [Text] / VB Lyubimov, K. V. Balin. — Bryansk: BSU, 2005. — 81.
7. Bako, G. The geographical distribution of high cadmium concentrations in the environment and prostate cancer in Alberta [Text] / G. Bako, E. S. Smith, J. Hanson, R. Dewar / / Can. J. Public. Health. — 1982. — V. 73. — № 2. — P. 92-94.
About this article
Authors:

Larionov M.V., Larionov N.V.



Year:

2010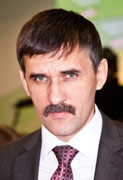 Editor-in-chief
Sergey Aleksandrovich
MIROSHNIKOV