Подача статей





Alidzhanova I.E., Notova S.V., Kiyaeva E.V.
THE INFLUENCE OF THE STRESS-FACTORS OF DIFFERENT NATURE ON THE ACCUMULATION OF CHEMICAL ELEMENTS IN BODIES OF LABORATORY ANIMALS
The authors studied the special features of the accumulation of chemical elements in bodies of laboratory animals under the action of the stress-factors of different nature (physical load, the scarcity of nutrients). They revealed the unbalance of the chemical elements against the background of intensive physical load in laboratory animals. In this case reduction in the concentration of all of the macro- and overwhelming majority of the essential elements against the background of the accumulation of some toxic elements in bodies of animal experimental groups was observed.
References:
1. Aghajanian, NA Human Physiology in flight [Text] / NA Aghajanian, AN Kislitsyn, MV Sizova. — Sochi: Phoenix, 2004. — 184.
2. Meyerson, F. Z. Adaptation to stressful situations and physical strain [Text] / FZ Meerson, MG Pshennikova. — Moscow: Nauka, 1988. — 256.
3. Skalny, AV Physiological aspects of macro-and micronutrients in sport / AV Rock. — Orenburg: COE at OSU, 2005. — 210.
4. Atrian, S. Perfect adaptation to cope with metal stress and trace element homeostasis: Metal specificity is a fundamental structural feature of snail metallothioneins / S. Atrian [et al.] / / Comparative Biochemistry and Physiology — Part A: Molecular & Integrative Physiology. — 2008. — Vol. 151, Issue 1, Suppl. 1. — P. S20.
5. Lakin, GF Biometrics. — M.: Vyssh. shk., 1990.
6. Gres NA Evaluation of the metabolic relationships of calcium, phosphorus, potassium, using the coefficients Ca / P, Ca / K / NA Gres, IV Tarasyuk / / II Congress of Russian Society of Medical elementologii (ROSMEM), 24 -27 November 2008, Tver. — Tver: [B. and.], 2008. — S. 10-11.
7. Skalny, AV Nutrition in Sport: macro-and micronutrients / AV Rocky, ZG Ordzhonikidze, AN Katulin. — MM: Gorodets, 2005. — 144.
About this article
Authors:

Alidzhanova I.E., Notova S.V., Kiyaeva E.V.



Year:

2010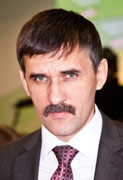 Editor-in-chief
Sergey Aleksandrovich
MIROSHNIKOV