Подача статей





Bolodurina I.P., Lugovskova Y.P.
THE SIMULATION OF THE STOCHASTIC FLUCTUATIONS OF THE NONLINEAR SYSTEM OF THE DIFFERENTIAL EQUATIONS, DESCRIBING THE DYNAMICS OF IMMUNE RESPONSE WITH THE INFECTIOUS DISEASES
The work represents the results of the program realization of the numerical algorithm of the solution of the stochastic differential equations, describing the dynamics of the development of infectious diseases at the cellular level, based on the standardized decomposition by Taylor — Ito in terms of the repeated stochastic integrals with their subsequent approximation with help of the polynomial set of functions.
Key words:
immune response, stochastic model, the mathematical simulation.
References:
1. Burnet, F. Cellular Immunology / FM Burnet. — Moscow: Mir, 1971. — 544.
2. White, LN Analysis of mathematical models in immunology / LN White, GI Marchuk. — Moscow: Nauka, 1988. — 192.
3. Bolodurina, IP A stochastic model of the dynamics of infectious diseases under the influence of random perturbations / IP Bolodurina, JP Lugovskova / / Technology in the XXI Century: Current Status and Prospects of Development: Monograph. — Book 4. — Novosibirsk: TSRNS, 2009. — 286.
4. Bolodurina, IP Stochastic model of infectious diseases, based on the principles of the immune system / IP Bolodurina, JP Lugovskova / / Review of Applied and Industrial Mathematics. 2009. T. 16. Vol. 6. S. 1028-1029.
5. Volkov, IK Random Processes: Textbook for Universities / IK Volkov, SM Zuev, GM Tsvetkova .- M.: MSTU them. NE Bauman, 2006. — 448.
6. Gikhman, II Stochastic Differential Equations and Their Applications, II Gikhman, AV Walker. — Kiev: Naukova Dumka, 1982. — 612 sec.
7. Dasgupta, D. Artificial Immune Systems and Their Applications, D. Dasgupta. Trans. from English. Ed. AA Romanyukha. — M.: FIZMATLIT, 2006. — 344.
8. Kuznetsov, JF Numerical simulation of stochastic differential equations and stochastic integrals, DF Kuznetsov. — St. Petersburg: Nauka, 1999. — 459 sec.
9. Marchuk, GI Mathematical models in immunology / GI Marchuk. — Moscow: Nauka 1980. — 264 pp.
10. Rozov, AK Stochastic Differential Equations and Their Applications, AK Rozov. — St.: Polytechnic, 2005. — 303.
About this article
Authors:

Lugovskova Yu.P., Bolodurina I.P.



Year:

2010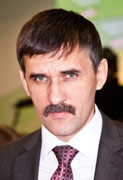 Editor-in-chief
Sergey Aleksandrovich
MIROSHNIKOV