Подача статей





Khadzharov M.H.
GLOBALIZATION OF SOCIAL SPHERE: CULTURAL PROBLEMS OF THE TRANSFORMING WORLD
The article contains analysis of processes of globalization and formation of the single social reality. Globalization capture of new social and political and economic areas leads many national-ethnic countries into loss of fundamental principles of existence, culture ideals and rules, which play a role of regulatory mechanisms of social and culture life of people. Globalization of social reality leads into social and culture contradictions, analysis of which shows that this process is often carried out in the interest of certain technologically developed states. At this, there is a necessity for Russia, having integrated into world community, retained its international image as a center of spiritual and intellectual power able to solidate international community over the idea of building civilized and non-violent world.
Key words:
globalization, inegration, world community, contradictions, change of cultural values, national and ethnic cultures, crisis of ethnos culture, global problems of civilization, dialogue of cultures, non-violent world.
References:
1. Kuznetsov VN Safety culture. - M., 2001, Yanovsky RG Global change and social security. - M., 1999.
2. Holbach PA Selected works. In 2 vols. T. 2. - M., 1963.
3. Danilevsky NY Russia and Europe. - M., 1991.
4. Gumilev LN Rhythms of Eurasia. - M., 1993.
5. Rousseau JJ Treatises. - M., 1969. S. 268.
6. Boden G. Method Light studying history / anthology of world philosophy. In 4 vols. T. 2. - M., 1970. P. 142.
7. Human Development Report 2004. Cultural liberty in today's world. - M., 2004.
8. Mezhuyev VM Culture and History. - M., 1991.
About this article
Author:

Hadzharov M.H.



Year:

2010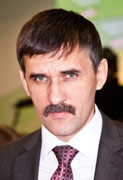 Editor-in-chief
Sergey Aleksandrovich
MIROSHNIKOV