Подача статей





Larionov М.V., Larionov N.V.
CHARACTERISTICS OF ACCUMULATION OF HEAVY METALS IN SOIL ECOSYSTEMS OF SARATOV VOLGA RIVER REGION
The paper provides the results of research into accumulation patterns of anthropogenic heavy metals in the black soils and plants on urbanized areas of Saratov Region. The maximum concentration of heavy metals was found in the southern chernozems and in the above plant biomass within the Volga Uplands.
Key words:
heavy metals, soil environment, biogenic element migration, factor of biological uptake.
References:
1. Resurrection, S.G. Geography of Saratov Region [Text] / SG Resurrection, A. Demin, LV Makartseva. — Saratov: EPI, 1997. — 224 pp.
2. Report on the state of environment in the Saratov region in 2008 [Text] The State Committee for the Protection of the ROC. Wed Saratov region. — Saratov: VP, 2009. — 188 pp.
3. Kabata-Pendias, A. Trace elements in soils and plants [Text] / A. Kabata-Pendias, H. Pendias. — M.: Mir, 1989. — 439 pp.
4. Kowalski, V. Methods for the determination of trace elements in organs and tissues of animals, plants and soils [Text] / V.V. Kovalsky, A.J. Golob. — M.: Kolos, 1969. — 272 pp.
5. Lyubimov, V.B. Mathematical methods in biology and ecology [Text] / V.B. Lyubimov, K.V. Balin. — Bryansk: BSU, 2005. — 81 pp.
6. Matveev, N.M. Heavy metals in some agricultural plants of the Samara region [Text] / N.M. Matveev, N.V. Prokhorov, V.A. Pavlovsky, S. Nikitin / Environmental issues and conservation in forest-steppe and steppe zones. — Samara, 1995. — S. 122-127.
7. Smirnova, N. Influence of lead and cadmium phytotoxicity of soil [Text] N.V. Smirnova, A. Shvedova / / Ecology and industry of Russia, 2005. — April. — S. 32-35.
8. Aggett, P.J. Soil and congenital malformations [Text] / P.J. Aggett, S. Rose / / Experientia. — 1987. — Vol.43. — № 1. — P. 104-108.
9. Donald, C. M. Competition among crop and pasture plants Advan [Text] / C. M. Donald. — Agron, 1963. — V. 15. — P. 1-118.
About this article
Authors:

Larionov M.V., Larionov N.V.



Year:

2010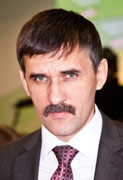 Editor-in-chief
Sergey Aleksandrovich
MIROSHNIKOV