Подача статей





Larionov N.V., Larionav M.V.
ABOUT CONDITION OF COMMUNITY AIR IN FRAME OF URBASYSTEMS OF MIDDLE POVOLZHIE (SARATOV REGION)
The results of long-term (2002—2009) researches of surface atmosphere quality of urbosystems in Saratov region are given in this article. Polluted to the maximum the cities are in the central part. Increase of maximum permissible concentration of some harmful substances is the reason of children's sickness spreading.
Key words:
air, man-caused pollution, urbosystem, correlation dependence of children morbidity.
References:
1. Artamonov V.A. state of the environment of the Saratov region in 2008 [Text] V.A. Artamonov, A. Shin, S.A. Artemyev, et al, Ed. A.N. Malikov. - Saratov: Vendor-20, 2009. - 167 pp.
2. Hygienic standards GN 2.1.6.1338-03. The maximum permissible concentration (MPC) of pollutants in atmospheric air of populated areas [Text]. - Moscow: Russian Ministry of Health, 2003. - 45.
3. Report on the state of environment in the Saratov region in 2008 [Text] The State Committee for the Protection of the ROC. Wed Saratov region. - Saratov: VP, 2009. - 188 pp.
4. Environmental Health: a methodology for assessing [text]. - Moscow: Center for Russian Environmental Policy, 2000. - 68.
5. Livchak I.F. Engineering protection and development management of the environment [Text] / I.F. Livchak. - M.: Kolos, 2001. - 159 pp.
6. Lyubimov V.B. Mathematical methods in biology and ecology [Text] / V.B. Lyubimov, K.V. Balin. - Bryansk: BSU, 2005. - 81 pp.
7. Romanova I.I. Comprehensive assessment of the impact of anthropogenic pollution on the morphofunctional status of school-age children [Text] I.I. Romanova / / Thesis of Candidate of Biological Sciences. - Kazan, 2001. - 119 pp.
8. Blair A. Reactive chemicals and cancer [Text] / A. Blair, N. Kazerouni / / Cancer Causes Control. - 1997. - Vol. 8. - № 3. - P. 473-490.
9. Sorsa, M. Mechanisms of carcinogenesis in Risk Identification [Text] / M. Sorsa, J. Wilbourn, H. Vainio. - Lion: IARS, 1992. - P. 543-554.
About this article
Authors:

Larionov M.V., Larionov N.V.



Year:

2009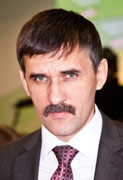 Editor-in-chief
Sergey Aleksandrovich
MIROSHNIKOV