Подача статей





Yusupova O.V., Yamalov S.M.
RELIC PETROPHYTIC STEPPE COMMUNITIES OF SOUTH URALS STATE NATURE RESERVE
The results of investigations relic petrophytic steppe communities of South Urals state nature reserve are presented in the paper. Communities are the fragments of relic petrophytic-steppe vegetation on the base rocky exposures. They are located on rocky steppes near-river slopes and dry (usually pine) forests on the insolated south or south-eastern slopes of western part of reserve, mainly on the coastal rocks along Big and Small Inzer river. The dataset consists of 17 geobotanical releves made during 2014–2015. According to results of syntaxonomical analysis studied communities are classified as new association of Euro-Siberian steppe class Festuco-Brometea. It is allocated to meadow steppe Festucion valesiacae alliance (Festucetalia valesiacae order) and petrophytic steppe Centaurеnion sibiricae suballiance. Communities are located on the different parts of south slopes with high soil rockiness (45–90 %). Aizopsis hybrida dominates in the herbage. Such shrubs as Spiraea crenata, Cerasus fruticosa, Cotoneaster melanocarpus, Rosa majalis, Caragana frutex play an active role, but do not dominate. The significant part of coenoflora consists of petrophitic steppe species: Centaurea sibirica, Artemisia frigida, Thalictrum foetidum, Vincetoxicum hirundinaria, Allium rubens, which are presented with high constancy and abundance. There are 3 Red Book included species in the coenoflora: Astragalus clerceanus, Stipa pennata, Tulipa biebersteiniana. Such habitat features as south slopes locations in mountain-forest zone and lack of forest and meadow species competition are probably the organization factors of relic petrophytic steppe communities. The lack of grasing and as a result steppe shrubs (Spirаea crenata, Caragana frutex) overgrowing are the limited factors for these.
Key words:
relic petrophytic steppes, mountain-forest zone, syntaxonomy, South Urals state nature reserve.
References:
1. Flora and vegetation of South Urals state nature reserve. Ufa: Gylem, 2008. P.71-75.
2. Gorichev Yu.P. Natural features of South Urals state nature reserve // South Urals state nature reserve bulletin. Vol. 1. Ufa: Print, 2008. P.51-52.
3. Kaigorodov A.N. Natural-zonal classification of globe climates. Moscow, 1955. 119 p.
4. Reference book of the climate of USSR. Vol 9. Part 2. L.: Gidrometeoizdat, 1965. 362 p.
5. Zhdanova N.V., Lapikov V.V. Climatic characteristic of forest vegetation zones of Bashkortostan // Biocoenotical charcteristic of coniferous forests and monitoring of forest ecosystems of Bashkortostan. Ufa: Gylem, 1998. P. 60-69.
6. Mukatanov A. Kh. Mountain-forest soils of Bashkir ASSR. Ufa, 1992. 118 p.
7. Braun-Blanquet J. Pflanzensoziologie. Grundzuge der Vegetationskunde. 3 Anfl. Wien-New York: Springer-Verlag, 1964. 865 S.
8. Hennekens S.M. TURBO(VEG). Software package for input processing and presentation of phytosociological data USER'S guide // IBN-DLO Wageningen et university of Lancaster, 1995. 70 p.
9. Cherepanov S.K. Vascular plants of Russia and adjacent states (in former USSR). SPb: Mir i semya, 1995. 992 p.
10. Weber H. E., Moravec J., Theurillat J.-P. International Code of Phytosociological Nomenclature // Vegetation of Russia. 2005. Vol. 7. P. 3-38.
11. Solomesch A.I., Grigor'ev I.N., Muldashev A.A., Alimbekova L.M. Vegetation cover of Shaitan-Tau ridges// Oak grov forest-steppe on Shaitan-Tau ridges and its conservation questions. Ufa, 1994. P. 27-96.
12. Flora and vegetation of national park "Bashkiria" (syntaxonomy, antropogenous dynamics, ecological zonation). Ufa: Gylem, 2010. 512 p.
13. Gorchakovskii P.L. The main problems of historical phytogeography of Ural // Bulletin of Institute of plant and animal ecology. Vol. 66. Sverdlovsk, 1969. 286 p.
14. Kulikov P.V. Vascular plant keys of Chelyabinsk district. Ekaterinburg, 2010. 970 p.
15. Red Book of Republic of Bashkortostan. P.1: Plants and fungi. Ufa: Media Print, 2011. 384 p.
16. Red Book of Russian Federation (plants and fungi). Moscow: KMK, 2008. 855 p.
About this article
Authors:

Yusupova O.V., Yamalov S.M.



Year:

2016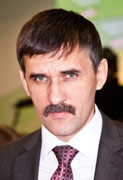 Editor-in-chief
Sergey Aleksandrovich
MIROSHNIKOV