Подача статей





Chotchayeva R.R.
PROSPECTS OF USE OF A GENE POOL OF FLORA OF A RIVER BASIN OF TEBERDA
The nature — the main source of medicinal, forage, food, melliferous crops for the person. The assessment of natural reserves of useful plants and research of dynamics of their distribution are one of the main directions the resursovedcheskikh of works. Inventory of fodder, food, medicinal and melliferous plants of flora of a river basin of Teberd is carried out. At the heart of work — the monotypical concept of a look. Latin names are provided according to S.K. Cherepanov's report. The flora of a river basin of Teberd contains many valuable species of plants for use by the person. As a result in the territory of Teberd river basin as fodder 18 species of cereals, 22 types of bean and 8 types of fodder plants разнотравья are revealed. 43 types of representatives of flora are used as food plants. From total number of species of the flowering plants growing in the territory of Teberd river basin melliferous plants are presented by 117 types. The gene pool of herbs of a river basin of Teberd makes 227 types.
Key words:
flora of Teberda river's basin, forage crops, food crops, drug plants, honey plants, plant resources, Teberda National Biosphere Reserve.
References:
1. Chotchaeva R.R, Ivanov A.L. To a question about the history of the study of flora Teberda River basin. Problems of development of biology and ecology of the North Caucasus. Materials 53 scientific conference "University Science  — region"[Materialy 53 nauchnoj konferencii "Universitetskaya nauka  — regionu"]. Stavropol, 2008. Pp.213-216. (in Russian)
2. CHerepanov S.K. Vascular Plants of Russia and Neighboring Countries. St. Petersburg, Peace and family95 [Mir i sem'ya-95], 1995. 990 p. (in Russian)
3. Galushko A.I. Flora of the North Caucasus.. Rostov State University, 1978-1980, vol. 1, 1978. -317p. vol. 2, 1980. -350 p. vol. 3, 1980. -327 p. (in Russian)
4. Grossgejm A.A. Rastitel'nye bogatstva Kavkaza. Vegetable Caucasian wealth. Moscow, Leningrad. Publishing house of the Moscow Society of Naturalists [Izdatel'stvo MOIP], 1952, 631 p. (in Russian)
5. Chotchaeva R.R, Ivanov L.A By the systematic structure of flora Teberda River basin (Western Caucasus). IX International Conference "Biodiversity of the Caucasus" dedicated to the 65th anniversary of Gayirbega Magomedovich Abdurakhmanov [IX Mezhdunarodnaya konferenciya "Biologicheskoe raznoobrazie Kavkaza", posvyashchennoe 65-letiyu Gajirbega Magomedovicha Abdurahmanova]. Makhachkala, 2007. Pp. 79-80. (in Russian)
6. Chotchaeva R.R, Ivanov L.A Ecological  — coenotic analysis Teberda River basin. Problems of development of biology and ecology of the North Caucasus. Materials 53 scientific conference "University Science  — region" [Materialy 53 nauchnoj konferencii "Universitetskaya nauka  — regionu"]. Stavropol, 2008. Pp. 85-87(in Russian)
7. Chotchaeva RR, Ivanov LA Biomorfologchesky analysis of flora Teberda River basin. Biodiversity, biological resources, new materials, and the health of the population of the region.. Materials 55 scientific conference "University Science  — region" [Materialy 55 nauchnoj konferencii "Universitetskaya nauka  — regionu"]. Stavropol, 2008.  — S.63-64. (in Russian)
8.Brezhnev D.D., Korovina O.N. Korovin ON Wild relatives of cultivated plants of the USSR. Leningrad. Spica [Kolos], 1981. 375 p. (in Russian)
9. Feed the plants hayfields and pastures of the USSR. Edited by Professor I.V.Larina, vol. 1. Spore, gymnosperms and monocots. Moscow, Leningrad state publishing of agricultural literature [Moskva, Leningrad, gosudarstvennoe izdatel'stvo sel'skohozyajstvennoj literatury], 1950. 687 p. (in Russian)
10. SHkhagapsoev S.H., SHorova R.CH., Kozhokov M.H. Wild plants in the traditional food Kabardians. Nalchik, El -Fa, 2003. 84 p. (in Russian)
11. SHreter A.I., Murav'eva D.A. Herbs Teberda Reserve. Proceedings of the Teberda State Nature Reserve [Trudy Teberdinskogo gosudarstvennogo zapovednika], 1960, vol. II. Pp 123-152. (in Russian)
12. Chotchaeva R.R, Ivanov A.L.. To a question about the history of the study of flora Teberda River basin. Problems of development of biology and ecology of the North Caucasus. Materials 53 scientific conference "University Science  — region" [Materialy 53 nauchnoj konferencii "Universitetskaya nauka  — regionu"]. Stavropol, 2008. Pp.213-216.8. (in Russian)
13. Atlas of areas and resources of medicinal plants of the USSR. Edited by P.S Chikova. Moscow,1980, 340 p. (in Russian)
14. Chotchaeva R.R On the problem of the protection of the Teberda River plant. IX International Conference "Biodiversity of the Caucasus" dedicated to the 65th anniversary of Gayirbega Magomedovich Abdurakhmanov [IX Mezhdunarodnaya konferenciya "Biologicheskoe raznoobrazie Kavkaza", posvyashchennoe 65-letiyu Gajirbega Magomedovicha Abdurahmanova]. Makhachkala, 2007. Pp. 125 (in Russian)
15. Chotchaeva R.R, Ivanov A.L To a question about the originality of flora Teberda River basin. Bulletin of Moscow State Regional University, series "Science" [Vestnik Moskovskogo gosudarstvennogo oblastnogo universiteta. Seriya "Estestvennye nauki"], no 1, 2008. Pp. 16-21 (in Russian)
16. Ivanov A.L. Ciscaucasia and its genesis. Stavropol: Publishing Stavropol State University, 1998. 204 p. (in Russian)
17. Malyshev A.A. To feed characteristic mountain meadows Teberda Reserve. Proceedings of the Teberda State Nature Reserveb [Trudy Teberdinskogo gosudarstvennogo zapovednika], 1960, vol. II. Pp 106-122. (in Russian)
About this article
Author:

Chotchaeva R.R.



Year:

2016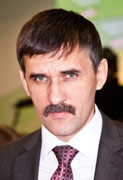 Editor-in-chief
Sergey Aleksandrovich
MIROSHNIKOV