Подача статей





Dashenko K.N.
DYNAMICS OF THE FUNCTIONAL PARAMETERS OF THE EYE AND INFLUENCE OF PHENOFIBRATE FOR THEM IN THE EARLY AND LATE PERIODS AFTER COAGULATION OF THE RETINA IN PATIENTS WITH NONPROLIFERATIVE DIABETIC RETINOPATHY
The main treatment for diabetic retinopathy is laser photocoagulation of the retina that allows you to save the vision in more than 80 % of cases. However, the influence of laser treatment on electrophysiological parameters of the eye in the early and late periods after taking of phenofibrate studied enough. We investigated the prospective and retrospective groups. All patients had nonproliferative stage of the DR with the risk of proliferation. He was executed laser coagulation of the retina. Part patients received fenofibrate (tricor), others do not. In the prospective group assessed the volatility nekorregirovannyh and korregirovannoe visual acuity and electrophysiological parameters of the eye. Laser coagulation of the retina in a small volume in patients with nonproliferative DR as soon as possible contributes to the stabilization of visual acuity and even a slight increase. After the laser treatment of all electrophysiological parameters significantly increased the latency of the ERG waves. To a lesser extent, the latency was increased in patients treated with fenofibrate. In the retrospective group explored the dynamics nekorregirovannyh and korregirovannoe visual acuity. In the group of patients not receiving fenofibrate, visual acuity after 3 months after laser treatment gradually decreased by 3–5 years: 31,4 % nekorregirovannyh and 28 % korregirovannye from initial values. In the group of patients treated with fenofibrate visual acuity gradually decreased from 1 year to 3–5 years has decreased by 26,3 % nekorregirovannyh and 11 % korregirovannye. Laser coagulation of the retina in patients with nonproliferative stage of the DR in the coming time causes an increase of the latency of ERG, indicating some inhibition of electrogenesis of the retina. The appointment of fenofibrate (tricor) helps to minimize the negative effects of laser photocoagulation on the retina as in the next, and in the long-term along with the compensation of the general condition.
Key words:
diabetic retinopathy, laser coagulation of a retina, phenofibrate.
References:
1.Astahov, U.S. Diabetic retinopathy/ clinical quidelines U.S.Astahov, F.E. Shadrichev, A.B. Lisichkina/ "Ophthalmology 2006" edited by Mashetovoi L.K., Nesterova A.P., Egorova E.A.// Publishing group of "GOATER-Media" Moscow 2006, P.178.
2. Dedov, I.I. Diabetes mellitus is a global health and social problem of modern times / I.I. Dedov, M.V. Shestakova./Consilium medicum 2009; 11; 12: p.5-8.
3. Zueva, M.V. Fundamental ophthalmology: the role of electrophysiological studies/ M.V. Zueva // Journal of ophthalmology. №6, 2014, том 130, с.30-31.
4. Izmailov, A.S. Diabetic retinopathy and macular edema (diagnosis and laser treatment): Abstract of dissertation of doctor of medical Sciences / A.S. Izmailov// St. Petersburg, 2004. — p.46.
5. Izmailov, A.S. Clinical classification of diabetic maculopathy / A.S. Izmailov, L.I. Balashevich // Modern technologies of vitreoretinal pathology treatment: collection of scientific articles.-M., 2002, p.123-127.
6. Lipatov, A.V. Evaluation of the effectiveness of drug therapy Hanford in patients with secondary glaucoma in diabetes mellitus./ A.V. Lipatov, T.A. Chistiacov, A.G. Kuzmin, A.A. Tolkacheva./ Journal of ophthalmology №3; 2014,tome 130, p.45-46.
7. Mansurina, N.B. Bioelectric activity of the retina in diabetic maculopathy / N.B. Mansurina, M.A.Arakelian, A.M. Shamshinova / Actual problems of ophthalmology 2008/ Collection of scientific works edited by H.P. Tahchidi, M. 2009.P. 198-199.
8. Neroev, V.V. Association of violations of the functional activity of the retina, metabolic and hemodynamic changes in diabetic patients without signs of retinopathy / V.V. Neroev, A.A. Kolchin, M.V. Zueva, T.N. Kiseleva./ Russian journal ophthalmology.2013;6(1):20-25.
9. Olevskaia, E.A. A diabetic may: clinic, forecast development, differentiated approach to treatment: Abstract of dissertation of candidate of medical Sciences/ E.A. Olevscaia // Chelyabinsk, 2004.-p.24.
10. Skorobogatova, E.S. Dinamika of disability on sight owing to diabetes in Russia / E.S. Skorobogatova, E.S. Liebman. // Modern opportunities in diagnostics and treatment of vitreoretinalny pathology. — M, 2004. — P. 307-310.
11. Ekgardt, V. F. Kliniko-immunologichesky aspects of patogenese, diagnostics and treatments of a diabetic retinopathy: Dis. … Dr.s of medical sciences.  — Chelyabinsk, 1997.  — P. 42.
12. Shamshinova, A.M. Electroretinography in ophthalmology/ A.M. Shamshinova / M.: Medica, 2009.-P.232-242.
13. American Diabetes Association: Standarts of medical care in diabetes-2011. Diabetes Care 2011;34: Suppl 1: 4-88.
14. Neubauer, A.S. Laser treatment in diabetic retinopathy / A. S. Neubauer, M. W. Ulbig // Ophthalmologica. — 2007.–V.221. — Р.95 –102.
15. Tang, L.P. Therapeutic effect of argon green laser for diabetic retinopathy / L.P. Tang, H.Y. Feng // Di Yi Jun Yi Da Xue Xue Bao. — 2004 Dec; 24(12).-P. 1452-1454.
16. Tyrberg, M. Multifocal electroretinogram (mfERG) in patients with diabetes mellitus and an enlarged foveal avascular zone (FAZ) / M. Tyrberg, V. Ponjavic, M. Lovestam-Adrian // Documenta Ophthalmologica. — 2008. — Nov; 117(3). — P. 185-189.
About this article
Author:

Dashenko K.N.



Year:

2015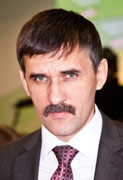 Editor-in-chief
Sergey Aleksandrovich
MIROSHNIKOV