Подача статей





Chekmareva O.V., Garitskaya M.Y., Pavlova T.V.
ECOTOXICOLOGICAL PROFILES OF SOIL QUALITY IN THE ZONE INFLUECE AKTOBE FERROALLOY PLANT
The modern enterprise is a complex metallurgical industrial complex, including a variety of shops, and sometimes individual plants, which greatly degrade the environment. All the known processes, metal production and subsequent redistribution accompanied by the formation of large amounts of waste in the form of harmful gases and dust, slag, sludge, sewage water, containing various chemical components of the scrap, slag, battlefield refractory debris and other emissions that pollute the atmosphere, water, and earth surface. The main activity ofthe Aktobeferroalloys plant(AFP) — production offerro-alloysof different grades. It producesferrochrome,ferroselikohrom, chromium metal, as well asadditional products: lime,carbon dioxide, sodium silicate, calcium carbide,refractory products, rubble, ferropyl, ilmenite concentrate, rutile-zirconproduct.Are minedilmeniteis buildinga factoryto producezirconand rutile.
Key words:
soil contamination, metals, ecotoxicological index rankings, ecological condition.
References:
1. TA Akimova Ecology. Nature − Man. Textbook for high schools / TA Akimov, AP Kuzmin, VV Haskin –Moscow: UNITY-DANA, 2004.– 365 p.
2. Gridel TE Industrial Ecology: Textbook. Handbook for schools / TE Gridel, BR Allenby lane with English. ed. prof. EV Girusova. − M.: UNITY-DANA, 2004. — 527 p. (Series "Foreign tutorial").
3.Metodologicheskie guidelines for determining the level of contamination of components of the environment with toxic substances production and consumption waste. RND 04.3.0.4.01-96. Almaty, 2005. — 173 p.
4.Motuzova, GV Ecological monitoring of soils: Proc. for high schools / GV Motuzova, OS Bezuglova. — M.: Gaudeamus, 2007. — 238 p. ISBN 978-5-98426-061-9.
About this article
Authors:

Garitskaya M.Yu., Chekmareva O.V., Pavlova T.V.



Year:

2015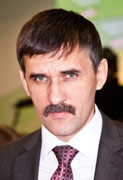 Editor-in-chief
Sergey Aleksandrovich
MIROSHNIKOV