Подача статей





Shibareva S.V., Mironycheva-Tokareva N.P.
VEGETATION DYNAMICS AND PLANT SUBSTANCES STEPPE ECOSYSTEMS SOUTH CHELYABINSK REGION
The study of plants and plant material for Katen gradient in the steppe zone Zauralye included a definition of successive changes of vegetation in the steppe ecosystems are in full commandments. As a result, removal of anthropogenic load of ecosystems in plant communities kateny marked trend towards mezofitizatsii.
Key words:
plant, above plant matter, below plant matter, production, litter, standing crop.
References:
1. Plehanova L.N., Ivanov I.V., Ermolaev A.M. Some results of biomonitoring soil reserve Arkaim of the Chelyabinsk area. — M.: Printing house, 2001. — 308 p.
2. Semkin B.I., Комарова T.A. Analys phytocenos descriptions with use of measures of inclusion // Botanical magazine. — 1977. — № 1. — P. 54–63.
3. Steppes of Northern Eurasia. — Novosibirsk: Science, 2002. — 298 p.
About this article
Authors:

Shibareva S.V., Mironycheva-Tokareva N.P.



Year:

2015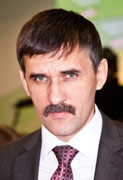 Editor-in-chief
Sergey Aleksandrovich
MIROSHNIKOV