Подача статей





Sapuh T.V., Skvorcova M.V.
PROCESS OF READING COMPETENCE FORMATION OF UNIVERSITY STUDENTS
This article is devoted to the investigation of the process of reading competence formation of university students. Based on the analysis of psychological and pedagogical literature, the authors define the concept of "reading competence", describe the algorithm for the formation of reading competence of university students, single out indicators of reading competence formation of students.
Key words:
reading, reading competence, reading competence formation, development of student's personality.
References:
1. Klychnikova Z.I. Psychological features of training in reading in a foreign language: A grant for teachers. — М.: Просвещение, 1983. — 207 с.
2. Kozyrev V.A., Chernjak V.D. Circle of reading and language ability of the Russian student // Vestnik Gercenovskogo universiteta. 2007. №10. С. 47.
3. Lerner I..Ja. Ability to read creatively. A role of the informative text of the textbook in developments of pupils / I..Ja. Lerner // Vechernjaja srednjaja shkola. — 1989. — №5. — С. 28—31.
4. The Common European Framework of Reference for Languages: Learning, Teaching, Assessment. — Department of Language Policy, Strasbourg. Moscow State Linguistic University (Russian version), 2003. — 256 p.
5. Orlova Je.A. Recommendations about increase of level of reader's competence within the National program of support and development of reading: posobie dlja rabotnikov obrazovatel'nyh uchrezhdenij. — M.: MCBS, 2008. — 136 с.
6. Plotnikov S.N. Reader's culture in Russia // Homo legens: pamjati S.N. Plotnikova: sb. nauch.tr. — M., 1999. — с. 46–58.
7. Razuvaeva T.A. Formation of reader's competence of students of faculty of foreign languages: Dis. … kand. ped. nauk: 13.00.08. — Tula, 2006. — 234 с.
About this article
Author:

Sapuh T.V.



Year:

2015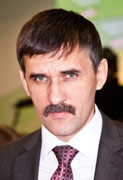 Editor-in-chief
Sergey Aleksandrovich
MIROSHNIKOV