Подача статей





Osiyanova O.M., Pfeyfer M.A.
INTERACTIVE COMMUNICATION DEVELOPMENT OF STUDENTS IN THE COMPETENCE-ORIENTED EDUCATION
The competence-oriented educationamends the definition of requirements for specialist training, his professional and personal qualities, competence in communication and social interaction. For the education result is important not only WHAT the future specialist knows, but HOW he can act. It is obvious, that the development of interactive communication should start at school,when the students' basic personality traits are formed and continue at the university by means of interactive learning technologies. Examine the interactive communication substance, conditions and ways of its development in the educational process of schools and universities. Interactive communication is defined as the interactive activities process which has a common goal, expected result, planning and control.The conditions of interactive communicationactualization can be equal partnership relations, the ability to listen and hear the participants' activity and others. An educational dialogue becomes a form of interactive communication. It provides an interchange of information, views, opinions, and the social experience formation, leading to the transformation of the educational activity subject. Interactive learning technologies which usage requires a review of the teacher's work, whose functionis to organize students' independent cognitive activity, play a very important role in the students' interactive communication development. The interactive skills require systematic sequential development which can be carried out on the ground of systemic-subject-oriented approach through students' orientation activity by means of points of orientation (objectives, principles, knowledge, experience, stimuli). The orientation system is very important in the interactive communication management in the process of transition from the passive forms of learning to active ones. The interactive communication developmentincludes three stages: orientation, coordination, independent activity. In conclusion, the importance of reflection in the interactive communication development is highlighted and a number of skills acquired by pupils and students in the process of purposeful workis listed.
Key words:
interactive communication, educational process, systemic-subject-oriented approach, interactive skills, points of orientation, management, group work.
References:
1. Andreeva, G.M. Social psychology / G.M. Andreeva. — Moscow: Aspekt Press, 2008. — 363 p.
2. Bodalev, A.A. Psychology of Communication. Encyclopedic dictionary / pod red. A.A. Bodalev. — Moscow:Kogito-Centr, 2011. — 600 p.
3. Gejhman, L.K. Communication learning through interaction with others / L.K. Gejhman // Bulletin of the OrenburgStateUniversity. — 2002. — №7. — P. 28-34.
4. Kashlev, S.S. Interactive Learning Technology / S.S. Kashlev, — Minsk: Belorusskijverasen', 2005. — 176 p.
5. Klarin, M.V. Innovative education: Lessons of "non-system" educational practice / M.V. Klarin // Educational Technology. — 2014. — №1. — P. 19-29.
6. Osiyanova, O.M. The model of "reflexive management" of the verbal communication culture teaching system of students / O.M. Osiyanova // European Social Science Journal.– 2013. — №5 (33) — P. 91– 99.
7. Osiyanova, O.M. Theoretical and methodological foundations of students interactive communication experience formation / О.М. Osiyanova, E.D. Platova// Bulletin of the OrenburgStateUniversity. — 2013. — №2. — P. 197 — 202.
8. Panfilova, A.P. Innovative teaching technologies: active learning / A.P. Panfilova. — Moscow: Publishing center "Akademija", 2009. — 192 p.
9. Passov, E.I. Foundations of communicative foreign language teaching / E.I. Passov. — Moscow: Russian language, 1989. — 276 p.
10. Solovova, E.N. Methodology of foreign language teaching: advanced course / E.N. Solovova. — 2-e izd. — Moscow: AST: Astrel, 2010. — 272 p.
11. Sociological dictionary [Online publishing]. — Access mode: http://enc-dic.com/sociology/Interakcija-2508.html. — Reference date: 29.10.2014.
12. Hutorskoj, A.V. Key competences as a component of student-oriented educational paradigm / A.V. Hutorskoj // Standards and monitoring in education. — 2002. — №2. — P. 58 — 64.
13. Federal State Educational Standard [Online publishing]. — Access mode: http://standart.edu.ru/catalog.aspx?CatalogId=6408. — Reference date: 30.10.2014.
14. Philosophical Dictionary / pod red. I.T. Frolov. — Moscow: Respublika, 2001. — 719 p.
15. Pica, T. Language Learning through Interaction. What role does gender play? / T. Pica, L. Holiday, N. Lewis, D. Berducci, J. Newman // Studies in Second language Acquisition. — 1991. — №13. — P. 343-346.
About this article
Author:

Osiyanova O.M.



Year:

2015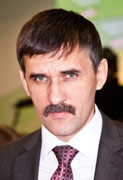 Editor-in-chief
Sergey Aleksandrovich
MIROSHNIKOV