Подача статей





Ovsyanitskaya L.Y.
SYSTEM APPROACH AS A GENERAL SCIENTIFIC BASIS OF THE INFORMATION COMPETENCE HEALTH PROFESSIONALS MODEL FORMATION
In the article the methodology of the system approach to the general scientific level of the health professionals information competence formation research is substantiated. The represented model of the health professionals information competence constructed on the basis of a system approach and OLAP-technology, taking into consideration the possible effects on influence each other components of the system and environment factors and allows to find the most effective impacts on the system, to decompose the system, compare the individual components to each other, finding their similarities and differences and to carry out simulation and optimization of the system.
Key words:
information competence, health professionals, the systems approach, OLAP-technology.
References:
1. Barseghyan, A.A TheData Analysis Technology: Data Mining, Visual Mining, Text Mining, OLAP / A.A Barsegian [et al.]. — St. Petersburg.: BHV-Petersburg, 2007.– 384 p.
2. Bogatyreva, Y.I A systematic approach to building expertise in the field of information security students of pedagogical universities / Y. Bogatyreva // Scientific statements BSU. Series: Humanities. — 2013. — №20. –P.181-188.
3. Viktorova, L.G.About the pedagogical systems / L.G. Viktorova. — Atlanta: Publishing House of Krasnoyarsk University, 1989. — 101 p.
4. Methods of the system pedagogical research / ed. N.V Kuzmina. — L.: Leningrad State University, 1980/– 172 p.
5. Educational environment of the school and university: a collective monograph / ed. E.J Nikitina. — M.: VLADOS, 2014.– 354 p.
6. Ovsyanitskaya, L.Y. Data Mining as a component of teacher control / L.Y. Ovsyanitskaya // Education and Science. Proceedings of the Ural Branch of the Russian Academy of Education. — 2013.– №10. –P. 80-90.
7. Pisareva, T.A The general framework of pedagogy: lecture notes / T.APisareva. — M.: Eksmo. — 2008. – 33p.
About this article
Author:





Year:

2015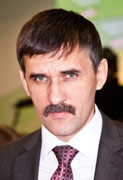 Editor-in-chief
Sergey Aleksandrovich
MIROSHNIKOV