Подача статей





Smetankin I.G., Ovchinnikov V.A., Agarkova D.I., Maksimova I.Y., Ovchinnicov E.A.
COMPRESSION INTERNAL JUGULAR VEIN IMPACT ON PERFORMANCE OF OUTFLOW OF AGUEOUS HUMOR IN PATIENTS WITH THYROID NODULES (PRELIMINARY REPORT)
In the study of the hydrodynamics of the eye in 6 patients (11 eyes) with compression of the internal jugular vein of thyroid nodules greater degrees of increase, confirmed by the data of duplex scanning of neck vessels and multislice computed tomography of the neck, before and after the removal of compression was determined in all cases, the improvement in the outflow of aqueous humor.
Key words:
aqueous humor, ophthalmohypertension, the coefficient of ease of outflow, thyroid nodules.
References:
1. National guidelines for glaucoma: for practitioners / Ed. prof. E.A. Egorova, prof. Y.S. Astakhov, prof. A.G. Shuko. — Ed. 2nd, rev. and ext. — M.: GEOTAR Media, 2011. — P. 36–40.
2. Glaucoma — classification, standards of diagnosis, treatment and clinical supervision of the adult population. Methodical recommendations. / Ed. prof. E.A. Egorova, prof. A.P. Nesterov, L.K. Moshetova [et al.] — Moscow, 2002. — P. 12–14.
3. Kanski, D. Clinical ophthalmology: a systematic approach. Tr. from Eng. / D. Kanski. — M.: Logosphere, 2006. — P. 243–245.
About this article
Author:





Year:

2014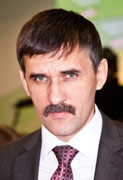 Editor-in-chief
Sergey Aleksandrovich
MIROSHNIKOV