Подача статей





Petrachkova M.S., Zhukova O.V.
REFRACTOGENES FEATURES IN CHILDREN WITH THRESHOLD RETINOPATHY OF PREMATURITY STAGE AFTER PERFORMED LASER PHOTOCOAGULATION OF THE RETINA
Retinopathy of prematurity (ROP) is one of the most urgent problems of modern pediatric ophthalmology. Among many of unfavorable factors related to basic disease, a special place is occupied by refractive errors. The article is devoted to the refraction in children with threshold ROP stage and aggressive posterior ROP after laser photocoagulation avascular zones of the retina. Refraction study was conducted in 6-8 months post-conceptual child age.
Key words:
retinopathy of prematurity, retinal laser coagulation, refractive error.
References:
1.Katargina, L.A. Recommendations of early detection and preventive treatment of active retinopathy of prematurity / L.A. Katargina, L.V. Kogoleva // Russian Ophthalmological journal. — 2008, №3.– P. 43–47.
2. Yang, C.S. Long-term visual outcomes of laser-treated threshold retinopathy of prematurity: a study of refractive status at 7 years / C.S. Yang [et al.] // Eye. — 2009. — Vol. 24, №1. — P. 14–20.
3. Quinn, G.E. Early Treatment for retinopathy of prematurity cooperative group. Progression of myopia and high myopia in the early treatment for retinopathy of prematurity study: findings to 3 years of age / G.E. Quinn [et al.] // 115. Ophthalmology. 2008. — Vol. 115, №6. — P. 1058–1064.
4. Garcia-Valenzuela, E. High myopia associated with retinopathy of prematurity is primarily lenticular / E. Garcia-Valenzuela, L.M. Kaufman // J. AAPOS. — 2005. — №9. — P. 121–128.
5. Laser photocoagulation for retinopathy of prematurity: structural and functional outcome / G.F. Kieselbach [et al.] // Acta Ophthalmol Scand. — 2006, Feb. — 84(1). — P. 21–26.
6. Structural sequelae abd refractive outcome 1 year after laser treatment for type 1 prethrehold retinopathy of prematurity in Asian Indian eyes / D. Katoch [et al.] // Indian J Ophthalmol. — 2011, Nov. –Dec. — 59(6). — P. 423–426. — doi: 10.4103/0301-4738.86306.
About this article
Author:





Year:

2014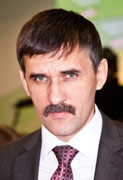 Editor-in-chief
Sergey Aleksandrovich
MIROSHNIKOV