Подача статей





Kuznetcov A.A., Тur Е.V., Kuznetcova N.V., Bystrov A.M.
DYNAMICS OF MORPHOMETRIC PARAMETERS OF THE MACULA ACCORDING TO OPTICAL COHERENCE TOMOGRAPHY IN PATIENTS WITH AGE-RELATED MACULAR DEGENERATION AFTER CATARACT PHACOEMULSIFICATION WITH INTRAOCULAR LENS IMPLANTATION
This article describes an analysis of morphometric parameters of macula according to optical coherence tomography after simultaneous cataract phacoemulsification with intraocular lens implantation and intravitreal injection of anti-VEGF ranibizumab.
Key words:
phacoemulsification cataract, macular degeneration, optical coherence tomography, morphometric parameters.
References:
1. SmPCLucentis
2. Beatty, S Macular Pigment and risk for age-related macular degeneration in subjects from a Nothern European population / S.Beatty, Murray I.J., Henson D.B. [et al.] // Invest. Ophthalmol. Vis.Sci. — 2001. — Vol.42. — P. 439–446.
3. Clemons, T.E. Risk factors for the incidence of advanced age-related macular degeneration in the Age-Related Eye disease Study (AREDS). AREDS report number 19 / T.E.Clemons, R.C.Milton, R.Cleinet [et al.] // Ophthalmology. — 2005. — Vol. 112. — P. 533–539.
4. Resnikoff, S. Global data on visual impairment in the year 2002 / S.Resnikoff, D.Pascolini, D.Etya"ale et al. // Bulletin of the World Health Organization. — 2004. — Vol.82, №11. — P. 844–851.
5. Rosenfeld, P.J. Ranibizumab for neovascular age-related macular degeneration / P.J. Rosenfeld, D.M. Brown, J.S. Heier // N Engl. J. Med. — 2006. — Vol. 355. — P. 1419–1431.
About this article
Author:





Year:

2014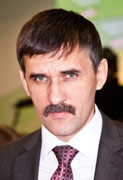 Editor-in-chief
Sergey Aleksandrovich
MIROSHNIKOV